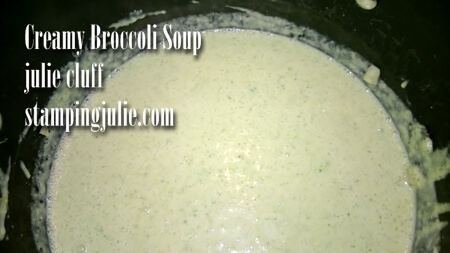 Like everyone else on the planet, I have 'lose weight', 'be health', 'get fit' goals for 2013 which includes a plant-based diet.  I also have other goals for 2013 such as financial goals, so one of the new features you will see on my blog is the 'Personally!' series.  On Saturday, I'll post a new 'Personally!' update that will include some of my non-stamping thoughts, projects and progress.  I hope you will join in and share your goals for 2013 and your struggles and successes!
Why am I including this on a stamping blog?  Because I'm hoping that we can encourage each other on our journeys to feeling better, being better and loving better!  I think life is a continuous improvement proposition.  So let's continuously improve together, shall we?!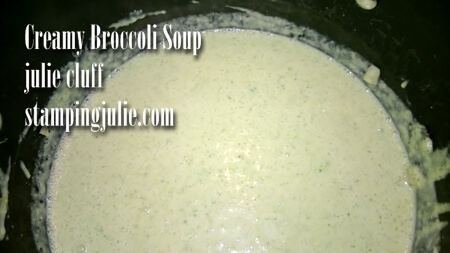 For years, I have read about the benefits of a plant-based diet and on occasion I have pursued that eating regimen.  This past year my husband, a long-time Adkins fan and huge meat eater, adopted the plant-based lifestyle with fantastic results.  My daughter and her husband also made the change and look and feel fabulous.  Another friend and husband have made the switch with inspiring results.
For some reason, while I completely and utterly believe in the health benefits of eating wholesome & nutritious fruits, vegetables, legumes and grains, I struggle to make the complete conversion.  But I have had a measured amount of success this year making worthwhile changes to my eating habits and so I'm ready to jump in with both feet and truly give it my all!
Yesterday I made a very healthy Creamy Broccoli Soup!  It was yummy (despite the anemic picture above!)  I followed the recipe found here on allrecipes.com pretty closely with a very few exceptions.
Ingredients:
1 cup raw cashews

5 cups vegetable broth, divided

2 Yukon Gold potatoes, cut into 1/2-inch cubes

1 onion, finely chopped

4-1/2 cups coarsely chopped broccoli

1 teaspoon dried basil

1 teaspoon fine sea salt

1/4 teaspoon freshly ground black pepper
I used peeled and diced red potatoes because that's what I had on hand.  And I used garlic sea salt.  Next time I think I'll had fresh garlic.  I don't think you can ever have enough garlic!  Also, I simmered it for a lot longer than the recipe suggested.  Plus I made it in the morning and then reheated it for dinner, which worked out great.  Blending cashews into the soup makes it creamy without adding cream and cheese!
For cooking directions, go to recipe link.
WHAT ARE YOUR GOALS FOR 2013?  Leave a comment and let's inspire each other!
Enjoy, Julie