Stamping Julie: The Best of 2012
Over 13,000 different people have visited StampingJulie.com since I started posting here in 2012!  Wow!!  Thanks for your support!  I love being here and I love that you love being here too!!
I absolutely cannot predict what will be a hit when I post to StampingJulie.  Who knew that this little project that I threw together on a whim with a dryer sheet flower and some other fun, glittery stuff would be soooooo popular? Amazing!!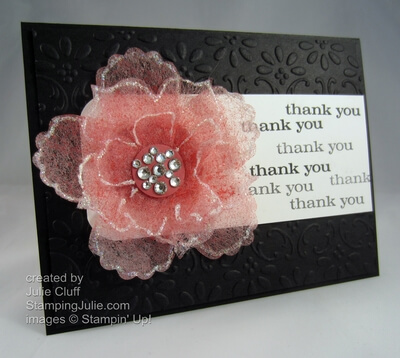 But this thank you card was BY FAR the Most Popular Post of 2012.  A  flower die cut from a dryer sheet with the Fun Flower die is the highlight of this card.   View the details here:  https://stampingjulie.com/2012/06/stampin-up-fun-flower-thank-you-card/
Here are some more popular searches and posts from 2012!
Thanks for taking this online journey with me this year!  I'll be posting some more 2012 favorites this week.
THE STAMPIN' UP! HOLIDAY CATALOG ENDS JANUARY 2ND.  Don't forget to order your favorite  products right away.
THE STAMPIN' UP! SPRING CATALOG BEGINS JANUARY 3RD.  If you need the new catalog click here to send me a quick message with your name, address and phone number, and I'll get one in the mail to you.   (If you placed an order with me during 2012 you should have already received your 2013 Spring Catalog in the mail.)
Enjoy, Julie