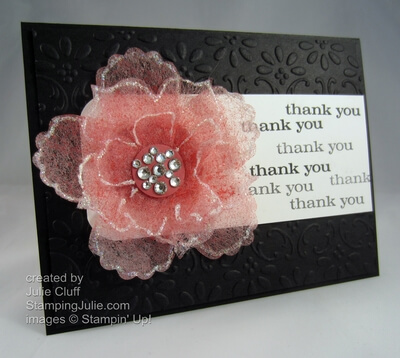 Stampin' Up! Fun Flower Thank You Card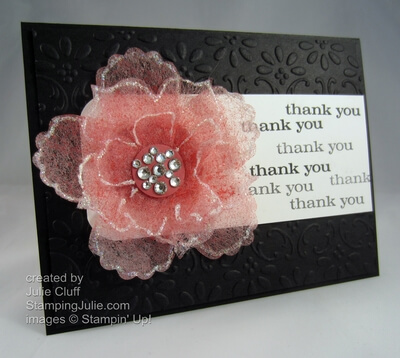 I made this flower with dryer sheets and the Fun Flower Bigz Die.  Who knew dryer sheets could be so pretty?!  As you might imagine dryer sheets would be hard to cut but if you sandwich the die, then the dryer sheet, and finally card stock you'll get a clean cut.  I only had to clip a couple of hanger-ons.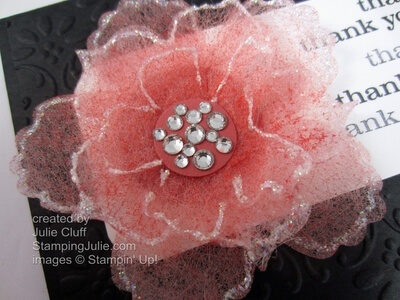 Once the flower was cut, I spritzed it with color, then outlined it with Dazzling Details Glitter Glue.  Of course, then it had to sit and dry.  I let it dry completely over night.  I set it out on some paper to dry, but I should have set it on wax paper instead since I did have a little trouble with a couple of spots where the glue stuck to the paper.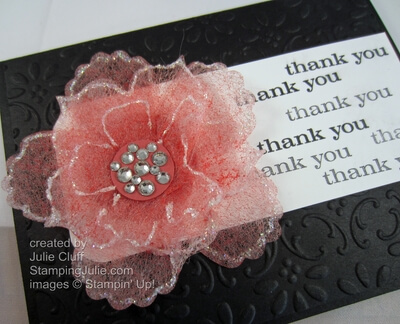 To assemble the flower, I punched a 1-1/4″ card stock circle from Primrose Petals then stacked the flowers on top, punched the center and adhered them all together with a brad.  I punched a  3/4″ card stock circle, adhered the rhinestones and glued that to the top of the brad with a glue dot.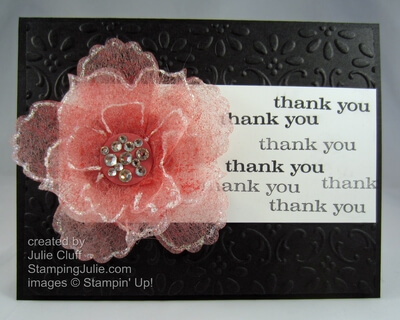 'Thank you', from the Just Believe Stamp Set, was stamped in Basic Black full strength and then again without re-inking to get the different varying shades of black and gray.
The Big Shot Die-Cutting Machine makes this all happen – the flower and the beautiful embossed background.  The Big Shot has instruction on the multipurpose platform on how to use all the various types of dies, making it super easy to use.  Order your Big Shot today and start creating!
Card Recipe:
Stamp Set: Just Believe wood-#116948 clear-#120453
Ink: Basic Black #126980
Paper: Primrose Petals #126841, Basic Black #121045, Whisper White #100730
Extras:  Rhinestones #119246, 1-1/4″ Circle Punch #119861, 3/4″ Circle Punch #119873, Stampin' Spritzer #126185, Dazzling Detail Glitter Glue #124117, Fun Flower Bigz Die #121812, Embossing Folder #120175, Big Shot Die-Cut Machine #113439, Mini Glue Dots #103683
Enjoy!  Julie