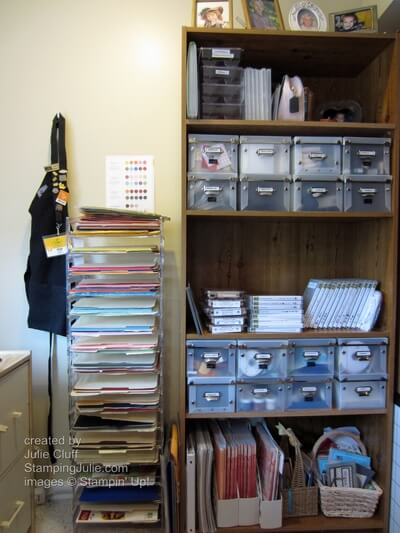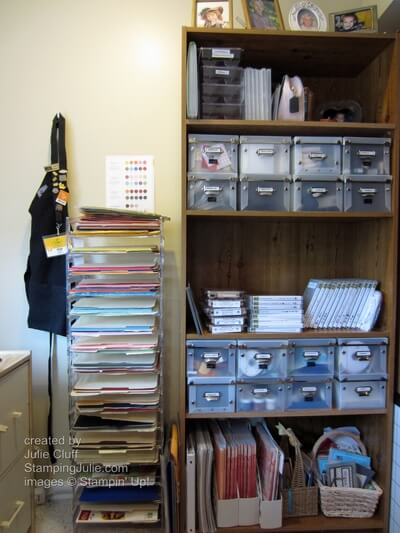 When it comes to craft & stamping room organization, I am ALL about having things at my finger tips.  I don't want to waste time digging around trying to find what I need or filing through complicated systems getting my supplies out for a project.  Keeping things accessible makes it easier to clean up also.  (The picture above is of the right side of my U-shaped crafting area, the center of which is my desk.)
Everyone has a little different philosophy.  Some people need everything out of sight, but I'm in my happy place if my crafty stuff is visible and organized.  On my Stamping Julie facebook page I've been posting specific pictures with storage solutions, so I won't duplicate that here, but I do want to talk about strategies.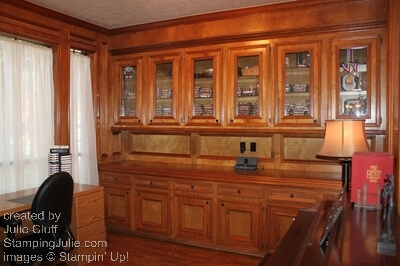 Last year I moved from my home in Texas with this great office (see all my stamp sets in the cabinets!) to Kentucky.  We have an office in our KY home also, but my husband is using it for his work, so I've taken over a room in the basement with a beautiful view of the rolling hills in our neighborhood!
The challenge was to move from having built-in cabinets to setting up a similar storage solution without them.  I decided I would use what I have, shelves, dressers, etc. and eventually I would install some cabinetry in my new space.
So here's my organization strategy:
Determine what you use all the time:  ink, paper, stamps, adhesive, etc., and place those things on your desk or right next to you in your primary space.
Determine what you use second most often: favorite embellishments and tools, and place those in your secondary space, close, but not as close as your primary space.  Shelves or drawers or containers nearby.
Determine what you use least, other embellishments, extra supplies and tools.  These item can go in less accessible storage areas.  Top or bottom drawers or shelves.
Determine what you don't use at all and eliminate it!!!  No, seriously, if you haven't used it in six months give it or sell it to someone who will use it.  Keep only the stuff you need, use or love!!!
Contain everything!  Everything should have a place and be contained in a box, on a shelf, in a drawer, in a container.
Every few months reassess!  Take a good look at the items in your primary and secondary spaces and determine if they still deserve their place.
For many years, I crafted without a dedicated space.   I kept my supplies in covered tubs and when I was ready to create, I transported the crate from my closet to the dining room table.
I wish I had a picture of my 17 yo son's room.  I've tried to teach him space and organization principles to no avail.  He has a game wheel, that he has had for two years and he has NEVER used, that sits on the floor in his otherwise clean room in a box!  I say, "Get rid of it.  You don't use it, you don't need it! And it is taking up prime space!  At the very least put it on the very top shelf of the closet."  Of course, after my little lesson in organization and space planning, the game wheel has been moved to the top of his closet – NOT!
Visit Stamping Julie on Facebook and let me know about your craft spaces and organization problems and solutions.  Here's to your success with organizing your craft and stamping space!!
Enjoy, Julie