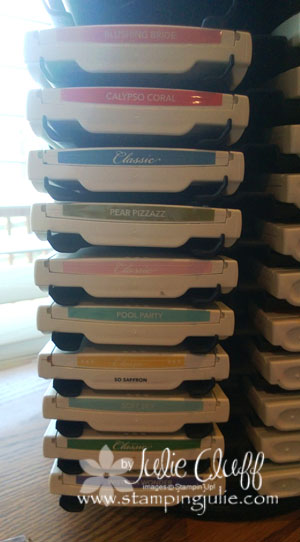 I just love the new Stampin' Up! color collections and I've had a box full of new colors, paper, ink, and stamps, and punches, etc., but no time to play. With a high school graduation and four trips out of town this past month, my playground…I mean, my craft room… has been neglected.  🙂
I finally got back in there for some quality get-er-dun time and got busy reorganizing for the new catalog year.  If you saw Friday's post, then you probably got your new labels, accessories index, and color charts saved and printed.  And if you have been following me on facebook, then you may have seen my occasional post there Friday during the reorganization process.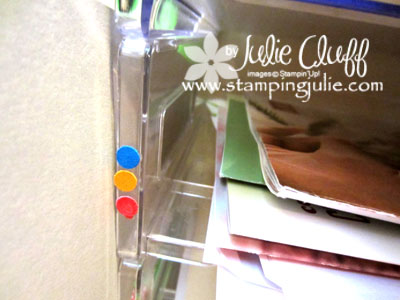 I keep my cardstock in stacking paper trays and I decided I wanted a color swatch on the side of the trays to more quickly find what I'm looking for.  From the picture above you can see that I previously used 1/4″ dots adhered to the side for quick reference, but I decided I wanted something more obvious.
I decided on flags.  I used the Petite Pennant Builder punch and punched out a flag in each color, then adhered them to the side of the tray with SNAIL adhesive.  SNAIL is not intended for gluing paper to plastic trays so we'll see how long it holds.  I may have to go back and use glue dots or sticky strip, but for now it was a quick solution.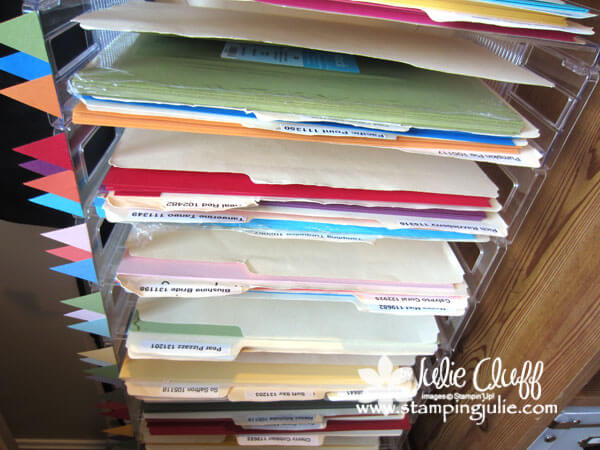 In Friday's post I gave you labels that you could use for your cardstock folders, but most of my folders already had labels from my labeler so I opted to continue those with the new colors.  Next time I reorganize my colors and cardstock I'll invest in some new file folders.  I've been using and reusing these for years and they are worn out!
This week I'll be showing you some thank you and wedding cards I made this weekend.  Also, tomorrow I'll share my son's graduation announcement I created in MDS.  Be sure and stop back by.
Do you have some great organizational tips?  Or do you have questions about organizing your crafts?  Please leave a comment and let me know what's on your mind.
Enjoy!  Julie