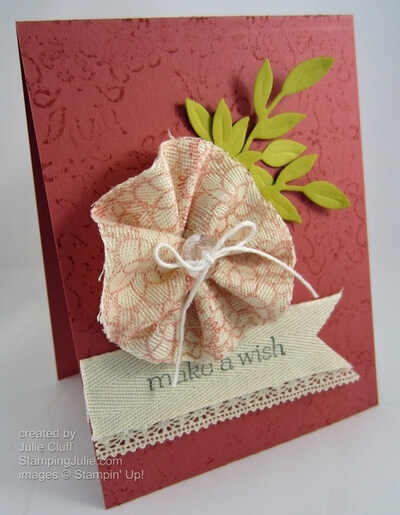 Cotton Ribbon Flower Birthday Card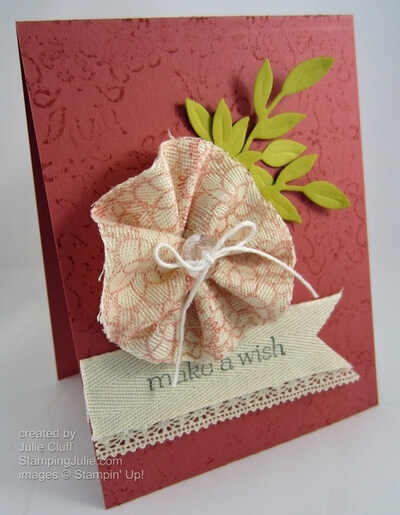 The Stampin' Up! exclusive magazine for demonstrators is a wonderful source of inspiration.  This past month it featured an article on stamping on ribbon using the new 7/8" Cotton Ribbon and the Border Banter stamp set, both on page 20 of the new Holiday Catalog.  In the catalog you'll see a candy box tied with the festive green stamped ribbon.  Very playful and lovely!
My card uses the same layout and basic features of the stamped card found in the magazine.  To create the ribbon flower, the ribbon is first stamped with Primrose Petals ink and ruffled in the middle and hot glued to a cardstock circle.  Once the base of the flower was complete, I threaded a white twine bow into the clear Vintage Button and adhered that to the flower with glue dots.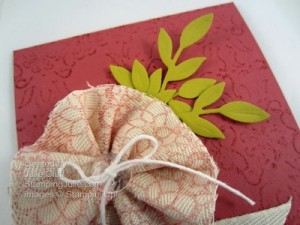 The 'make a wish' greeting was also stamped on ribbon; this time using Black StazOn ink.  A strip of Crochet Trim was affixed to the back of the ribbon and then the flag end was trimmed out with Craft Scissors.  The Craft Scissors are wonderful and cut through ribbon and paper like butter!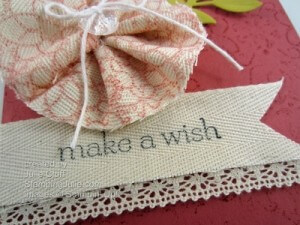 A quick word about Craft Scissors and other tools – I used to think I was no good at baking cookies until I invested in long-lasting quality baking tools, like a baking stone and a cooling rack.  When I started using the quality tools my experience with baking was transformed.  Every batch was successful!  Craft Scissors and other high quality Stampin' Up! tools are invaluable in transforming your crafting experience into fabulous success!
The leaves are Little Leave Sizzlits cut outs.  Using the tip of the Bone Folder, I creased the center of the leaves for a more natural look.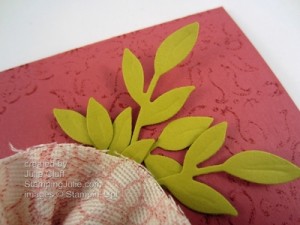 And finally, probably my favorite part of this card, the background!  This background was featured in video #1 in the recent article 5 new Stampin' Up! How-To Videos !    Starting with the Vintage Wallpaper Embossing Folder, I used a brayer to roll ink on one side of the open folder.  Then I sandwiched the cardstock in the folder and gently rubbed the inked folder over the Primrose Petals paper.  That's it.  Instead of embossing the card front I just used the folder to 'stamp' the paper creating this lovely background!  Watch the video if you're still trying to figure out what I did!
Try the new 'stamping with an embossing folder' technique. Order your cotton ribbon today and start stamping!
Enjoy!  Julie
Card Recipe:
Stamps: Sweet Essentials w-#126455 c-#126457, Delicate Doilies w-#122590 c-#122592
Ink: Primrose Petals #126858, Black Stazon #101406
Cardstock:  Primrose Petals #126841, Summer Starfruit #126839
Extras: Vintage Faceted Designer Buttons #127555, Natural Cotton Ribbon #127844, Crochet Trim 118481, White Baker's Twine #124262, Little Leaves Sizzlits #114511, Brayer #102395, Craft Scissors 108360, Vintage Wallpaper Folder #120175