Have you ever thought about owning your own business?
Do you just want access to a lot of fabulous product and great ideas!?
Have you thought about doing what I do?
By the way, when you join during the month of August, you'll receive this great Spooktacular Halloween Project Kit!
Would you like to know more about becoming a Stampin' Up! Demonstrator?
When you join our group of stampers and/or digital designers as a Stampin' Up! demonstrator, you start your own rewarding venture!
Could this be your next step in the development of your creativity?
And the benefits are many:
Flexible schedule – work around your home and family life…set your own schedule…work the hours you want to work!
Income – you decide how much you want to make…work a little for extra income for Christmas or a special vacation…or work more for more income, bonuses and incentive trips to improve your lifestyle!
Support – from me and from Stampin' Up!…we'll help you accomplish YOUR goals!
Creativity – enjoy what you love, and, if you choose, make money sharing high-quality papercrafting and digital products...plus enjoy a discount on the products you love!
Whether you want a business or just to enjoy your hobby – join us . All you need to get started is to purchase your $99 starter kit worth $190. For more information Click Here. Call or write to me today and you'll recieve more information by mail with absolutely no obligation!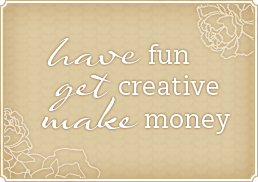 It would be so fun to have you join me in this adventure!!!
Enjoy!  Julie