Don't Make These Mistakes!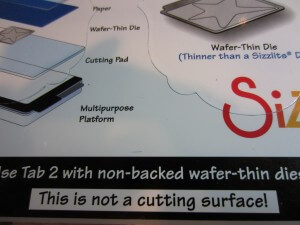 Mistake #1 – See that warning.  "This is not a cutting surface!"  Now see the shapes cut into the surface!  Well, this is why I don't recommend stamping late at night!!  The really stupid part is I did it twice.  So when your cutting with framelits make sure you sandwich it between your cutting plates.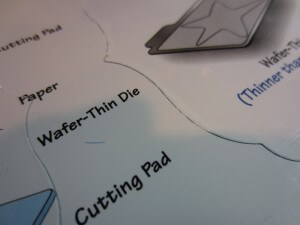 The good news is it's still usable, just messy looking now.
Mistake #2 – I reinked my Baha Breeze stamp pad  with the Marina Mist reinker!  I thought I had the Marina Mist stamp pad out, but I didn't.  I've never done that before.
Now, occasionally someone at a stamp camp will accidentally tap a stamp that was previously inked with dark ink on a light stamp pad.  The best way to clean up the stamp pad is to wipe it with paper towels and then reink the pad.  So that's what I did  with my Baja Breeze stamp pad.  I soaked up as much of the Marina Mist ink as I could with paper towels and then reinked the pad with Baja Breeze reinker.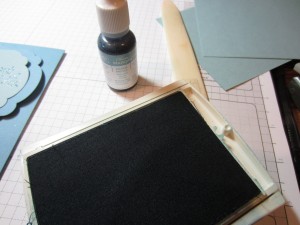 It's always a good idea to buy the reinker with your stamp pad.  You never have to worry about having enough ink on your stamp pad and they are great for watercoloring and lots of other techniques.
Enjoy, Julie