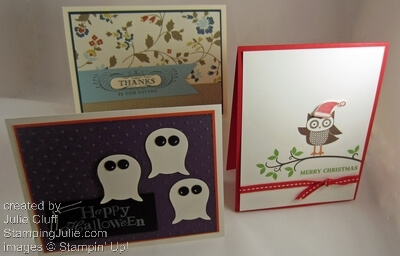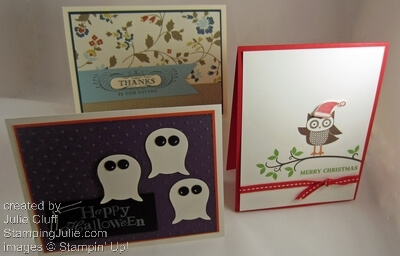 Are you excited about the holidays?  Are you wanting new creative ideas and how-to's to make your holidays extra special for you and your family?  Your friends and family will drool over your handmade creations.  You'll feel special and so will they! 
Do you live near Louisville, KY?  Then join me for my October 25th Stamp Camp.  Details below.  And view more events by clicking the Events tab above.
If you don't live close or can't make it on the 25th, don't despair!  You can still get all the creative ideas and how-to's!  Join me for a virtual stamp camp delivered directly TO YOU on October 20th .  Enjoy 30 minutes of exclusive video tutorials with lifetime access, which include step-by-step instructions to make all three projects PLUS additional project ideas, AND a PDF file with full color pictures and step-by-step directions  with complete cutting measurements.
Two ways to get the virtual stamp camp: 
Option 1 – In the US Only! Purchase $35 or more in Stampin' Up! product from my store by October 20th and receive the videos and PDF file as a FREE bonus.  Place your order and then click here  or leave a comment below with your email address to claim your FREE bonus!
Option 2 – Available to ALL! Order video demonstrations and PDF file for only $8.  This is great for everyone looking for creative inspiration, including stamping demonstrators who need ideas for their own events!  Click 'Buy Now' button and order now.
WHAT OTHERS ARE SAYING ABOUT STAMPING JULIE VIRTUAL EVENTS:
"So cute, and great tutorial! Thanks so much for sharing!" – Kat R.
"Julie has always been a great inspiration, especially when it comes to card design.  Very helpful in teaching different techinques." – Debbie M.
"I am fairly new to Stampin' Up!, and your cards and ideas help me in my demonstrations.  So, thank you so much for your help." – Cindy H.

Girls Night Out Stamp Camp
Thursday, Oct. 25, 2012 7:00 pm
Rubber stamping with Julie Cluff
Make 3 projects!
$10 class fee or FREE with product purchase that night
Door prizes & light refreshments!
Sign Up Now:
(Limited to 10 stampers, so make your reservation early)
Questions? or Need directions:  Email me or call number above
Most people enjoy bringing their own class kit.**
**Class Kit: Paper Trimmer, Scissors, Adhesive, bone folder or scoring blade. (if you don't have some of these supplies, no problem, there will be some available for sharing.)
WHAT OTHERS ARE SAYING ABOUT STAMPING JULIE EVENTS:
"YIPPEE! Thanks for hosting another great camp!" – Karen W.
"I have to admit I was a bit intimidated by the prospect of making those beautiful cards, but I had so much fun!" – Cathy P.
"Mary and I had a great time last nite and we look forward to the next stamp camp." – Vicki R.