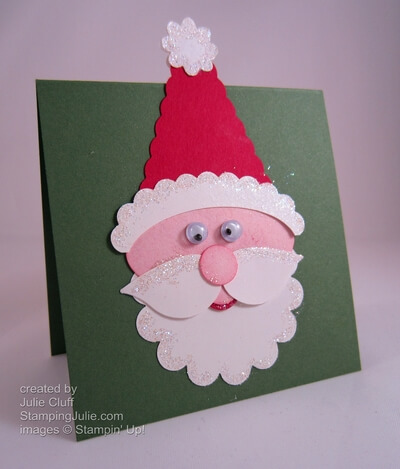 Do you recognize this punch-art Santa face?  This gift card was made with the same Santa face I created for the petite treat purse and the rockin' Santas.  This makes a great gift card for a child.  I made this little 3"x3" card for my 3yo granddaughter.  I'm popping it in the mail today and I hope it gets there before they come here for Christmas.
Follow the directions here for the Santa face.   (I added another small circle of Real Red cardstock peeking out from his lip for his mouth.)  The Garden Green cardstock was cut 3"x6" and folded to 3" square.  With the Santa hat poking out the top you'll need to use a longer envelope.  You can custom make an envelope using the Diagonal scoring plate or use an envelope from the note cards & envelopes pack.
Click here to order great products at deep discounts available on the Stampin' Up! Clearance Rack.  For more information on the Clearance Rack go here.
 Enjoy,  Julie