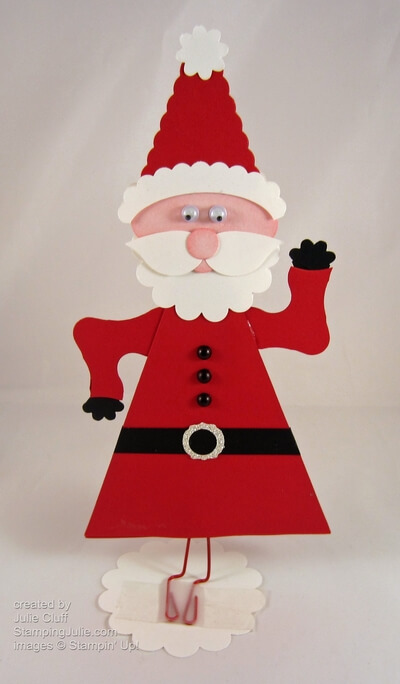 Stampin' Up! Rockin' Santas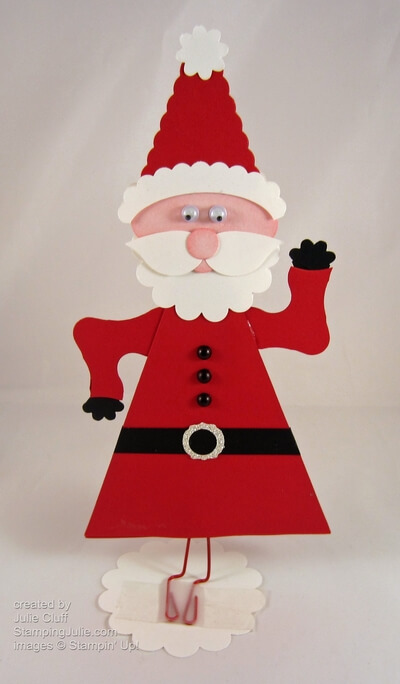 While playing with paper and punches, I made a couple of stand-up Rockin' Santas.  Both were created with the same face that I used for the Santa petite purse .  You can click here to see the supply list and the video tutorial for the Santa purse.  I added bodies to these Santa faces to create the stand-up Santa.
Doesn't he just look like he is dancing?  What dance would that be?!?  On this Santa I used the Pennant Die and the Big Shot Die-cutting Machine to make the body.  I created the arms with the Curly Label punch and a circle punch.  First I punched the label then I fed the punched label back into the punch and punched the inside of the arm.  I used the circle punch to trim off the points and create the wrist.  I made the hands with the smallest blossom from the Boho Blossom punch, then trimmed off the extra petals.
His Santa suit has pearl buttons colored with a Black Sharpie, with a strip of Basic Black cardstock for his belt and a Mini Label punched belt buckle.  To create the belt buckle, punch the circle from Silver Glimmer Paper with the circle punch from Itty Bitty Shapes Punch Pack, then center the circle in the Mini Label punch and punch it out and attach it to the belt with Multipurpose Liquid Glue.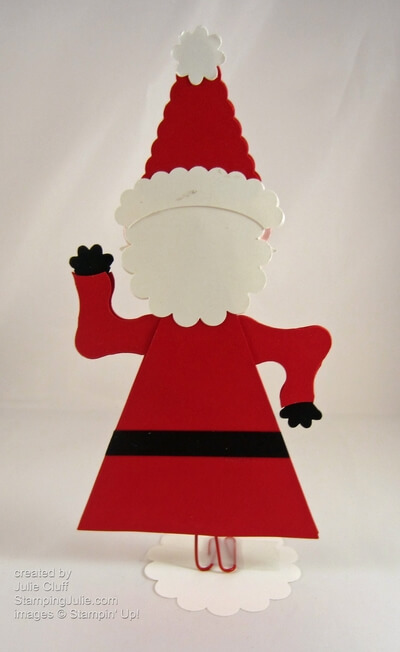 The back is layered with the same pieces.  The bent paper clip legs were adhered and sandwiched between the front and the back.  You can use glue dots for quick results, but I used crystal effects for lasting staying power.  His feet were then taped down on to a white scallop circle base.  It would be fun to have a rocking wood block to pin him down to and then he'll really rock out!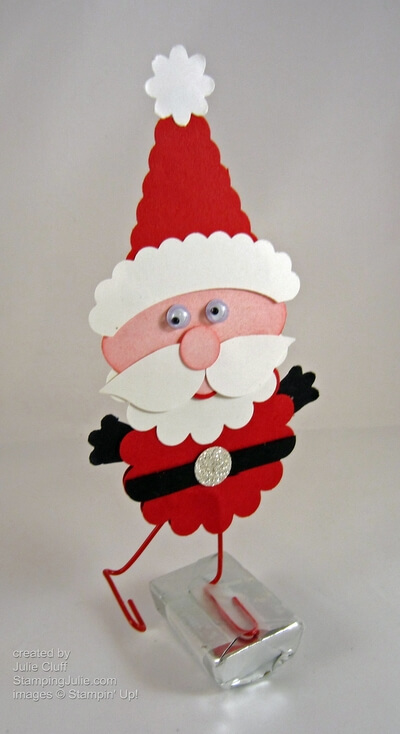 This Rockin' Santa has a Scallop Circle body with a simple Basic Black belt and a small circle buckle punched from the Silver Glimmer paper.  His hands were also trimmed from the smallest blossom from the Boho Blossom punch.
Again the back is layered with a matching scallop circle with the paper clip legs sandwiched and cemented into place with Crystal Effects.  The feet were taped to the back of a Hershey Nugget so he'll rock.  Gentle rocking is needed though as he will topple if you get too carried away!!
REMEMBER: 2-WAYS TO GET A SET OF STAMP PADS (a$49.95 value) FOR FREE!  1. Place an order or host a workshop of $450 or more. OR 2. Join my team of stamping friends for just $99 and enjoy all the benefits of membership.  (Offer available now until December 16th.)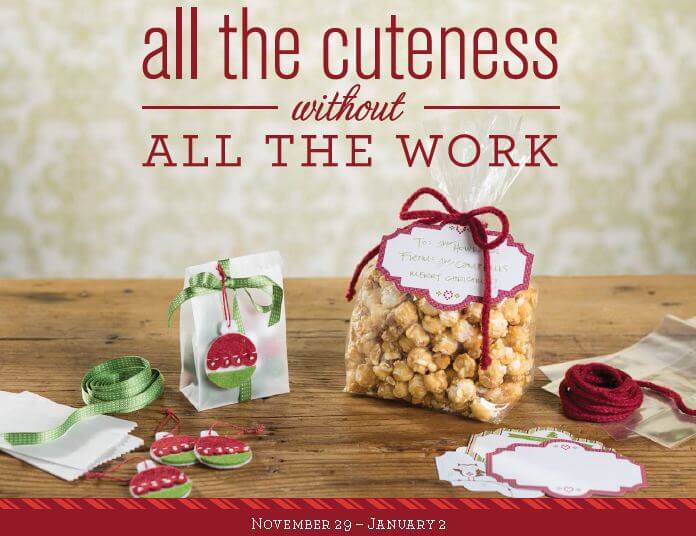 HOLIDAY PACKAGING BUNDLES ARE NOW AVAILABLE AT A DISCOUNT.  How about super cute holiday packaging all ready to go?!?!  The only thing you have to worry about is what to put in it!   Order now so you'll be ready.
Available November 29-January 2.
Trimmings & Tags Bundle #132769 $13.50 (a $16.85 value) Includes
Gusseted Cellophane Bags (25 bags; 5″ x 3″ x 11-1/2″)
Snow Festival Designer Printed Tags (25 double-sided tags; 4-1/2″ x 3-1/8″)
Cherry Cobbler 1/4″ Sweater Trim (10 yards)
Petite Treats Bundle #132770 $13.50 (a $16.85 value) Includes
Glassine Bags with die-cut edges (10 bags; 3″ x 5″ x 1-1/2″)
Handmade Holidays Stitched Felt (8 pieces)
Gumball Green 3/8″ Stitched Satin Ribbon (10 yards)
Click Here to Order your Stamping Supplies!
Enjoy, Julie