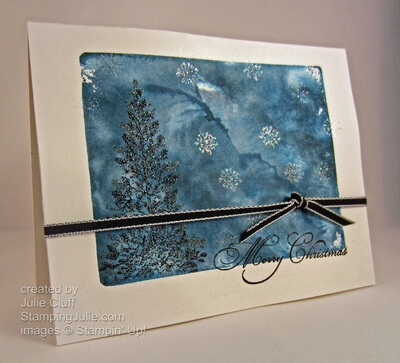 Lovely as a Tree Starry Night Christmas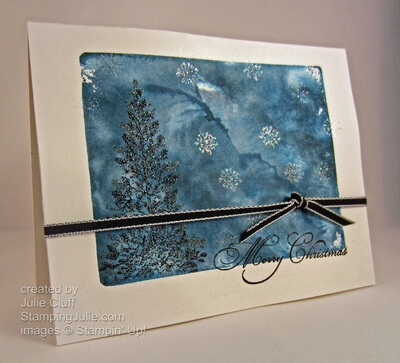 I have loved this pine tree from the Lovely as a Tree stamp set since I first got this set years ago.  Can't believe it's still available in this year's Stampin' Up! catalog.  I used it as a silhouette on this simple Christmas card.  I saw a challenge on splitcoast stampers to be inspired by this quote, " I have loved the stars too fondly to be fearful of the night" from Galileo.  That was the challenge and this is the card that it inspired me to make.
I started with the large 'E' acrylic block, smudged it with Midnight Muse, Night of Navy and Not Quite Navy stamp pads, spritzed it with water and stamped with the block.  You need a good but of spritzed water on the block in order for the colors to blend together so you get good coverage.  I used my heat tool to dry the paper after stamping.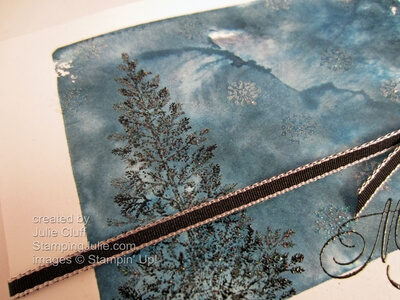 I used some paper and post-it notes to mask the bottom and side edges, stamped the tree in Black Craft Ink and embossed with Iridescent Ice embossing powder.  I really wanted the shimmer of the Iridescent Ice embossing powder, but the tree wasn't very visible, so I stamped it again with the Black Craft Ink and embossed again with black embossing powder.  That did the trick.  I got the shimmer and enough black silhouette so it would show up on the dark blue background. 
I used the small starburst stamp from the Summer Silhouette stamp set to stamp stars in the sky with VersaMark and the White Stamp Pad and embossed the stars with Iridescent Ice embossing powder.  Then I add the Merry Christmas sentiment with Black Craft Ink and the black embossing powder.  (I wanted a script Merry Christmas so I used this retired stamp, but any of the stamps from the Greetings of the Season stamp set would have been perfect and beautiful!)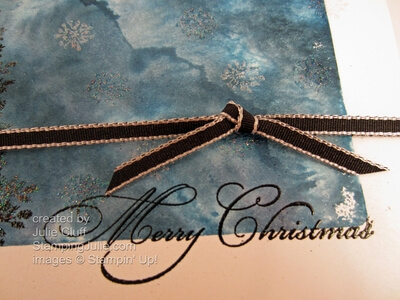 With the water-spritzed-block stamping and heat embossing, the paper became quite warped, so I layered it on a Natural White cardstock base to smooth it out and added the black ribbon which really added just the right amount of contrast, texture and interest.
Online Extravaganza Sale ends Wednesday, November 28th !  20%-50% off of Stampin' Up! goodies. Click here now to view everything that's on sale.
Click here to place your order now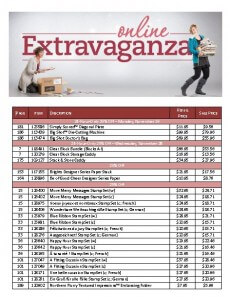 Enjoy!  Julie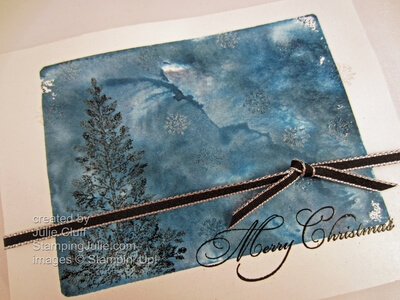 Card Recipe:
Stamps:  Lovely as a Tree w-#115026 c-#127793, Summer Silhouettes w-#126445 c-#126447
Ink: Midnight Muse #126860, Night of Navy #126970, Not Quite Navy #126971, Black Craft #102192, White Craft #101731, VersaMark #102283
Paper:  Whisper White cardstock #100730, Natural White cardstock #102316
Extras: Acrylic Block #118484, Iridescent Ice Embossing Powder #101930, Black Embossing Powder #109133, Black Taffeta Ribbon #119261, Heat Tool #129053