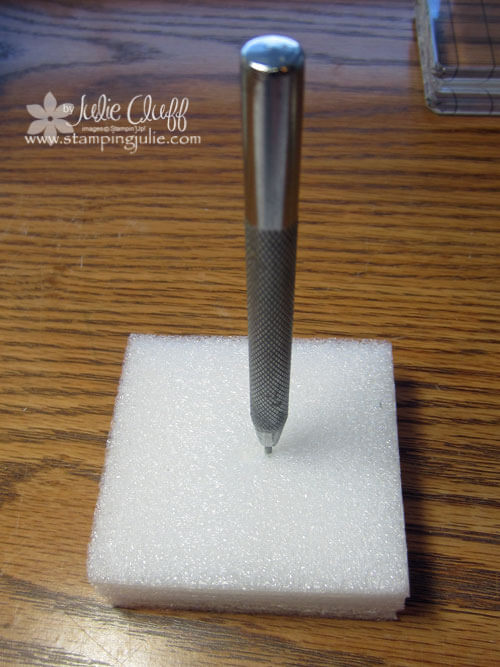 2 New Craft Tool Storage Ideas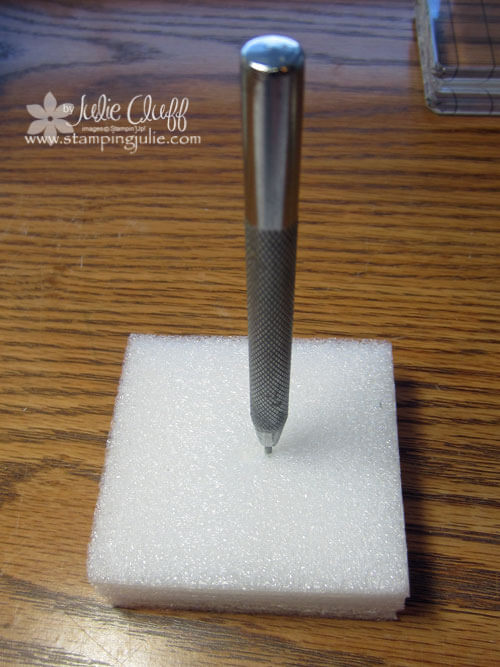 I'm always looking for craft tool storage and organizational ideas.  If I can discover something that takes me less than 5 minutes to set up and saves me oodles of time in the future, I'm all over it!
Recently I ordered four new sizzlet dies: Floral Fusion, Buttons, Pinwheel & Happy Whale.  The dies are the same size and each came with a piece of foam covering to protect it in shipping.  And that's when I came up with this idea.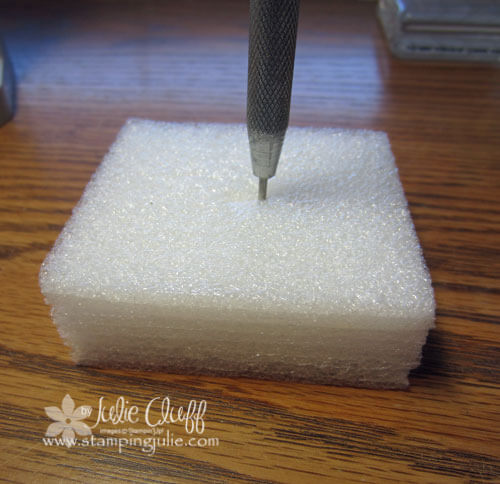 I use my paper-piercing tool to pierce for brads, pick up rhinestones and pearls and to pierce decorative edges. I use it on almost everything I make so having it handy is crucial.
I stacked the foam pieces and it was just the right height to store my paper-piercing tool upright. I used multi-purpose liquid glue around the edges of the foam, let it dry and instant paper-piercing tool holder!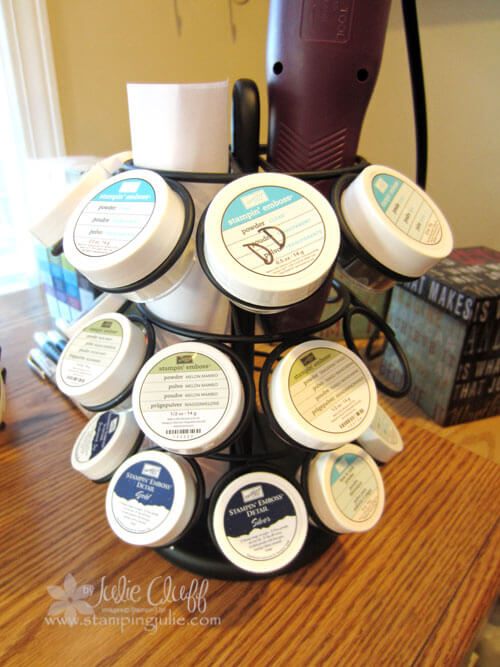 Here's another new discovery.  The K-cup Carousel
 is a perfect caddy for embossing powder and glitter tubs!  I reach for my embossing powders almost daily also, so this will be so nice to have handy.
If you were a part of our Facebook discussion the other day, you'll know that I'm a revealer.  We talked about two different organizational styles: revealer and concealer.
I can also store my heat tool in the middle of the carousel.  (I'm happy to tell you that I'm finally replacing my heat tool with my Great Rewards points.  Another perk of being a part of Stampin' Up! )   I also rolled up a piece of paper and placed it in the top so I could pull it out to catch my powders and reload my tub when I'm done.
DID YOU GET THE STAMPING JULIE UPDATES THIS WEEK?  You can subscribe in the box at the top of the side bar.
FACEBOOK-ONLY SPECIAL!  'Like' my facebook page and come back on Monday for the announcement.
I hope you can use one of these craft tool storage ideas.  I'm always excited to discover new time-saving tips.  Feel free to share a couple of your favorite tips in the comments below.
Enjoy!  Julie