New Catalog Tour and Resources You Are Going to Love!
Check out this video and the great tips on features and savings in the new catalog.   And below are some wonderful resources you are going to love!  I promise!
If you've seen my craft room tour   you know that I store my cardstock in file folders on stacked paper trays.  On the wall above the stack I keep a chart of the color collections for a reference.  Each color collection is stored in three trays and the colors are alphabetized within the collection.  The chart on the wall helps me to quickly locate the folder I'm looking for.  So the first two resources include a new color chart (with bonus hex and RGB codes) and folder labels.
1.  This new color chart includes the HTML (hex codes) and RGB color codes for the new color collections.  This is the new chart that will go up on my wall above my cardstock storage.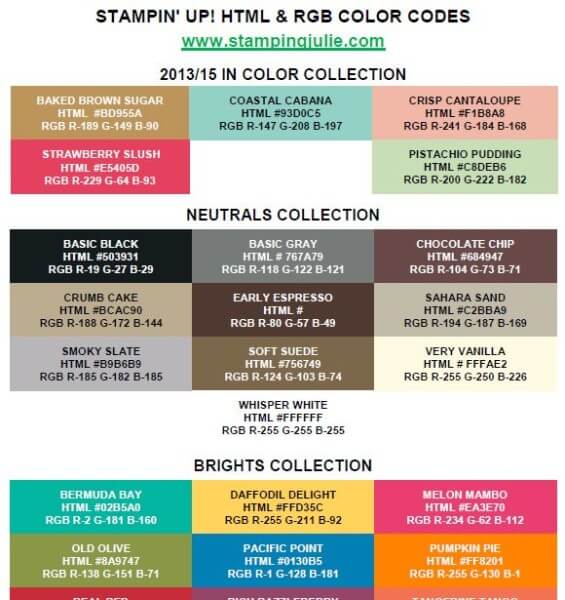 2013-14 RGB HTML Color Codes Chart pdf file
2.  New 2013-14 color collection labels for the for your cardstock files.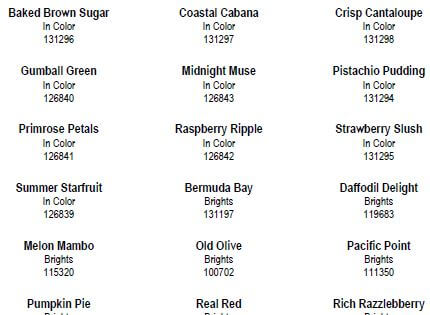 2013-14 Stampin' Up! Cardstock Color Collection Labels pdf file
2013-14 Stampin' Up! Cardstock Color Collection Labels word doc
3.  Wouldn't you just love an index of the accessories in the new catalog?!  Here it is!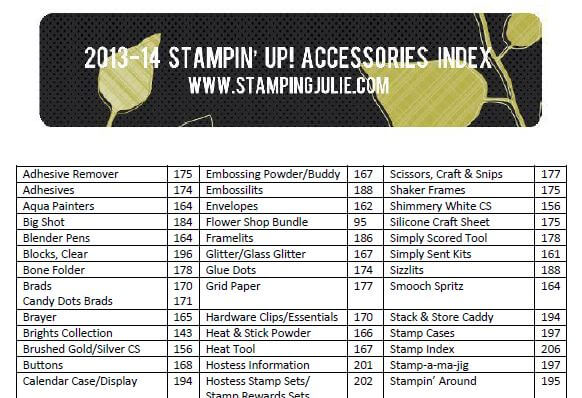 2013-14 Stampin' Up! Catalog Accessories Index pdf file
One of the advantages of being a part of my Stampin' Up! family is having access to wonderful resources like these that you can use and share.  Thank you, Gail Emmons, and my SU friends for sharing these fabulous creations with me.  Would you love more ideas, resources, free stamps, and discounts?  You can join the fun for just $99 and receive $125 in products with no shipping fees and gain immediate access to new ideas!
I'm super excited about some new crafting inspiration that I have received from my group that I will be sharing with you in the next couple of weeks.  Some of these new ideas will be exclusive to newsletter subscribers so if you are not already on that list, subscribe now.
I love the new catalog and the new color collections.  I hope these resources above help you get organized and enjoy your Stampin' Up! crafting adventures even more!
Enjoy!  Julie