We went out of town this week to visit family.  We took our son-in-law on a trip to show him around to family homes in Tennessee and North Carolina.  We loved playing games and watching the finale of American Idol in the theater room at my sister's house.  We had quite the adventure going down the whitewater rapids on the Ocoee River in North Carolina.  I almost chickened out on that trip.  It's my second time down that river so I thought maybe I was tempting luck by doing it again.  But I'm so glad I went.   I'll have to show you pictures later when I get them.
Unfortunately,  I did not have reliable internet service while I was gone so all the inspiring posts I had planned for you did not get posted!  🙁  So be prepared for a LOT of posts for the next few days to get caught up. 
Today I demonstrate how to make this photobook page: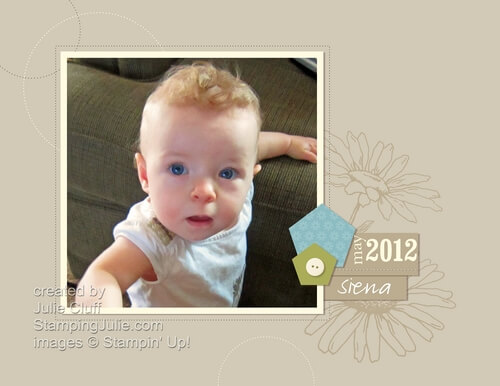 Here's the first in a series of videos I have planned to show you how to use the Sweet Details Designer Template that's available in the My Digital Studio Express download.   Try it out today for FREE!  (Visit this post online to access the video.)
If you already have My Digital Studio and you like the Sweet Details Photobook you can download it here. 
Enjoy!  Julie