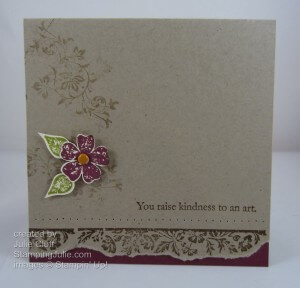 This lovely Vintage Vogue Stamp Set is going away.  As of midnight tonight, May 31st, MST this stamp set will no longer be available.  The card above was inspired by a sample in a previous catalog and the photobook below was made with Pink Pirouette cardstock and clear envelopes decorated with versamark, Chocolate Chip and Regal Rose inks.
This is one of the first stamp sets I ordered in clear mount.  Now I order almost all my stamps in clear mount.
 The new catalog starts tomorrow, June 1st!  The new products will be online starting at noon MST.  Need a new catalog?  Please send me a message or leave a comment.  Some of you should have already received an e-mail message letting you know your catalog is on its way!
Enjoy!  Julie