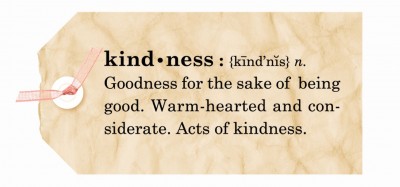 Seriously, where do they get these people?  Because I want more of them!!  I've been working with Stampin' Up! for nearly ten years and I have NEVER had a bad experience when I've called demonstrator support for help.  I don't know what's in the water at the home office, but if they bottled it, I'd buy it.  EVERYONE, without exception, that has answered the phone when I've called is out-of-this-world kind and nice and helpful and happy.  Love it!  🙂
I'm sure I could be accused of drinking the Stampin' Up! kool-aid, but I'm OK with that because I have good reason to be satisfied.  The highest-quality, coordinated products at great prices and truly lovely people with whom to work!
I talked to the electric company today – yea, not such a great experience. 🙁
By the way, if your interested in joining Stampin' Up! because you want to start a low-cost business for income or you want it all and would like the prices and specials demonstrators enjoy click here.
The kindness tag above was created in My Digital Studio (MDS).  Check it out today and get your FREE trial copy.