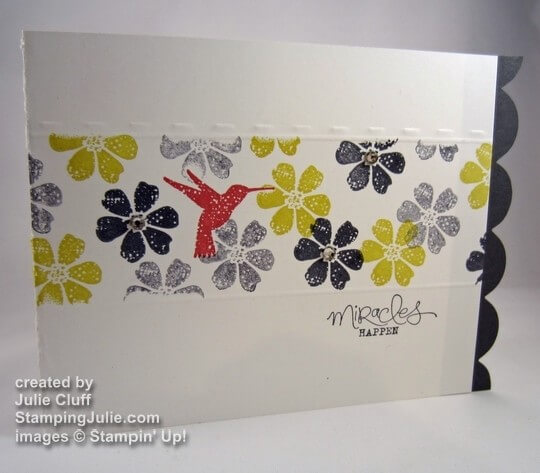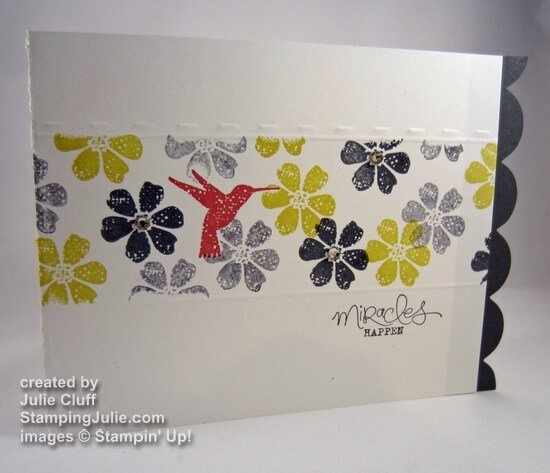 I am loving the  Sale-a-bration Bloomin' Marvelous stamp set !  It makes a great one-layer greeting card.  So many possibilities.  But it is also a set that can create design disaster.  Since the images and the sentiments go together, you can see how tempting it would be to stamp one image and one sentiment on a card side by side, or top and bottom, but that is not pleasing to the eye.
But there are design tricks that can be used to make these coordinating images work together.  One option is to use the image stamp in a pattern of multiples as I've done in this card.  Soon I'll be offering the Stamping Julie Design Series so you can learn design and art principles that you can use in your papercrafting.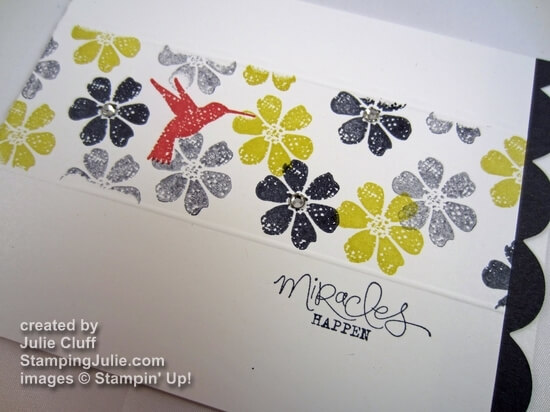 And I love the 'in-colors' in this card.  I use my color coach all the time for inspiration.  I usually have a couple of colors in mind and then I consult the color coach to see what other colors I want to incorporate.  I think I started with the Summer Starfruit and Basic Gray and then decided that Primrose Petals was the perfect accent.
I used masking in a couple of different ways on this card.  I stamped the hummingbird, then used a sticky note mask to cover before stamping the flowers around it.  I also masked the area for the flowers.  After stamping, I used the Simply Scored Scoring Tool and the new Borders Scoring Plate to add a subtle but interesting border around the field of flowers.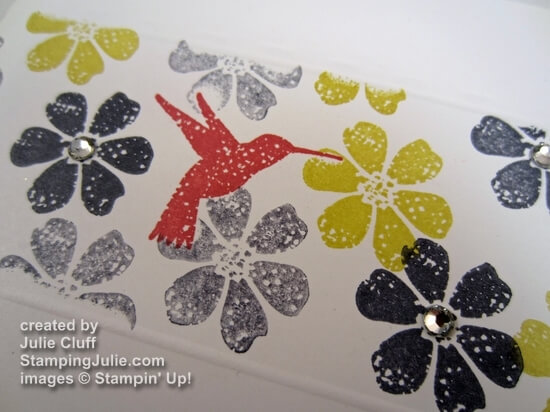 Here's the card recipe: (All supplies are Stampin' Up! Click on the product link to visit my store for pictures, details & ordering.) SAB:
Bloomin' Marvelous stamp set w-#129651 c-#
129654 Ink:
Summer Starfruit
#126991,
Primrose Petals
#126858, 
Basic Gray
#126981 Paper:
Whisper White cardstock
#100730,
Basic Gray cardstock
#121044 Extras:
Tasteful Trims XL Bigz Die
#125597,
Big Shot die-cutting machine
#113439,
Rhinestones
#119246,
Simply Scored Scoring Tool
#125586,
Borders Scoring Plate
#126192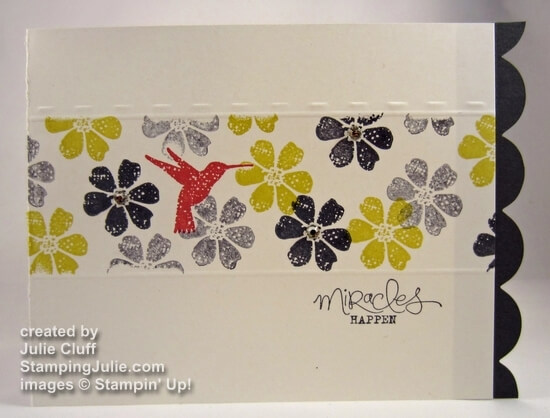 CLICK HERE TO ORDER YOUR FREE SALE-A-BRATION GOODIES TODAY! Including the Bloomin' Marvelous stamp set.  Need more details?  Click here.
I hope you enjoyed this one-layer card (with the exception of the scallop border.)  I have a few more Stampin' Up! Bloomin' Marvelous cards to share, so stay tuned.
Enjoy! Julie