Color inspiration for your paper crafting can come from many different places.  Some of my favorites are the Stampin' Up! catalogs, designer series paper, and the color coach. These are obvious places to be inspired by Stampin' Up! colors, but have you looked around you?
Do you have a favorite dress you love to wear or a favorite picture hanging in your home?  Have you noticed the colors used in a magazine article or ad?   How can you use these inspirations to create your next favorite birthday card, party favor or wall decor?
Design Seeds takes color inspiration to a whole new level.  Check out this picture below and notice the colors the designer has pulled from this picture.  Can you convert this great color combination into Stampin' Up! colors?
 (Picture source: 
http://design-seeds.com/index.php/home/entry/ladybug-hues
)
Here's the SU! colors I picked from this: Baja Breeze, Certainly Celery, Wild Wasabi, Basic Black and Tangerine Tango.  Are these the colors you would have chosen?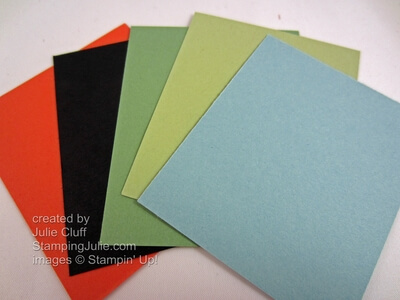 Here's a VERY simple birthday gift card made with this color inspiration.  It took me just a few minutes to make this card because I already had a color palette.  Actually, it took me soooo little time to make this, I wish I had timed myself.  Probably 10-15 from beginning to end.  It took longer to take and edit the picture than to make it!  LOL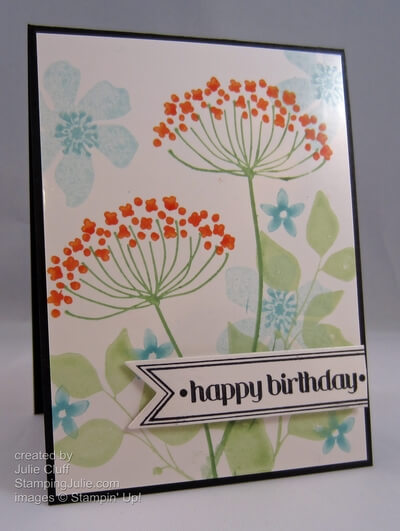 This card measures 2-1/2″ x 3-1/2″ I chose to stamp this card on Glossy White.  This glossy paper creates such a great effect.  I wish you could see it in person.  This paper has a similar surface as you would find on a store-bought card but a much nicer, richer-feeling paper weight.  The first time I saw a card stamped on Glossy White I didn't believe it was hand stamped.  It was a floral card also and it was just beautiful.  The colors are so rich and vibrant stamped on this paper.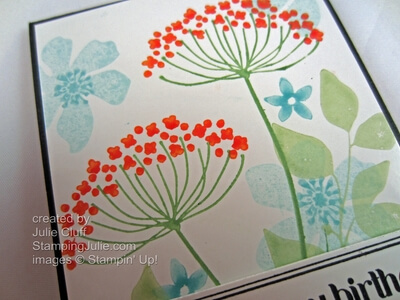 Technique:  You're probably noticing that it looks like I used two different blues.  Not so – all the flowers are stamped in Baha Breeze!  The lighter color is a second-generation stamped image, meaning I stamped off on a scrap piece of paper first before stamping on my card front.  The darker Baha Breeze is full-strength color.  Stamping-off or second-generation stamping is an easy way to get even more variety out of your ink pads.
Card Recipe:
Stamps: Summer Silhouettes w-#126445 c-#126447, Itty Bitty Banners w-#126255 c-#126257
Ink: Certainly Celery #126958, Wild Wasabi #126959, Baja Breeze #126960, Tangerine Tango #126946, Basic Black #126980
Paper: Glossy White #102599, Basic Black #121045
Extras: Bitty Banner Framelits #129267, Big Shot Die-cutting Machine #113439
I hope you enjoyed this color inspiration post and the easy birthday gift card!  Order a pack of designer series paper today to inspire your color choices or request your FREE copy of the Stampin' Up! Catalog today!
Enjoy!  Julie