Merry Christmas Trees in Review
Christmas Trees have certainly been a theme this holiday season on StampingJulie.com.  I'm a little sad to see Christmas coming to an end.  I can't tell you how much fun I have had making Christmas projects to share with you.  And with the end of the holiday season comes the end of the Stampin' Up! Holiday Catalog.
Here's some of the highlights of the Christmas tree cards I've shared with you this season: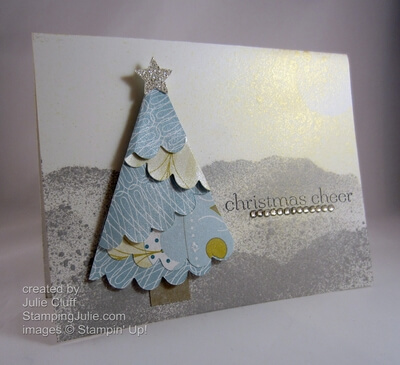 Just a folded Christmas tree and lots of glittery sprays!!  Shimmer Folded Christmas Tree Card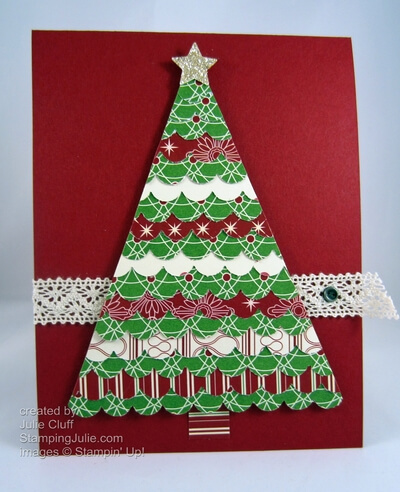 A ruffle Christmas tree card made with lots of punched and layered Christmas paper scallops.  Pennant Ruffle Christmas Tree Card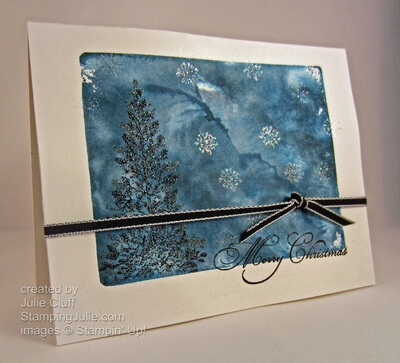 Definitely one of my favorite Christmas tree cards.  Lovely as a Tree Starry Night Christmas Tree Card and video tutorial.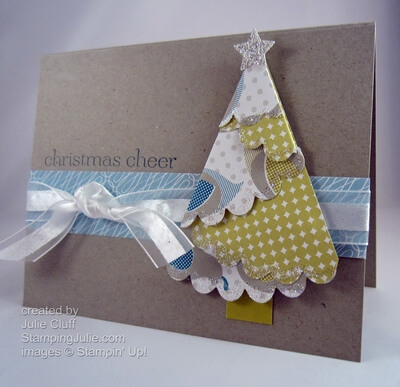 Another folded Christmas tree card with non-traditional colors.  Folded Christmas Tree Card and video tutorial.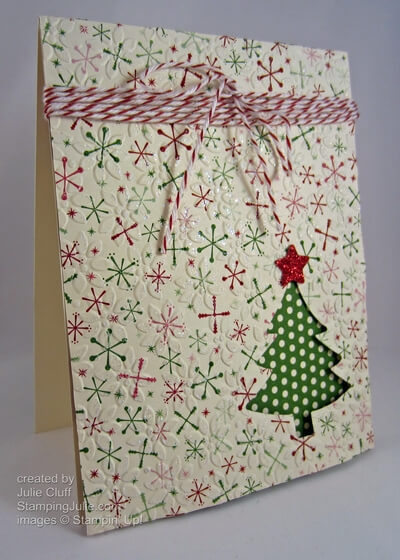 Another favorite!  I love the feel of the paper: it's so rich feeling after embossing and heat embossing with sparkle.  And the tree is cut out of the background with the green polka dot paper peeking out from behind.  Glittery Paper Christmas Tree Card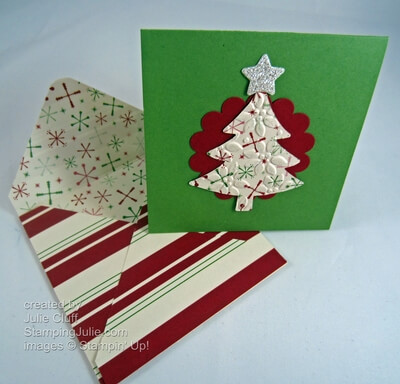 And the matching gift card from the scraps of the last card.  Holiday Collection Gift Card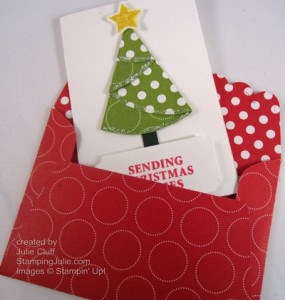 This little gift card that fits in the envelope made from the Scallop Envelope Bigz Die was the beginning of the folded Christmas tree craze!  Joyous Celebrations Folded Christmas Tree card 
That's the parade of Christmas trees in review!!
Merry Christmas!  Julie