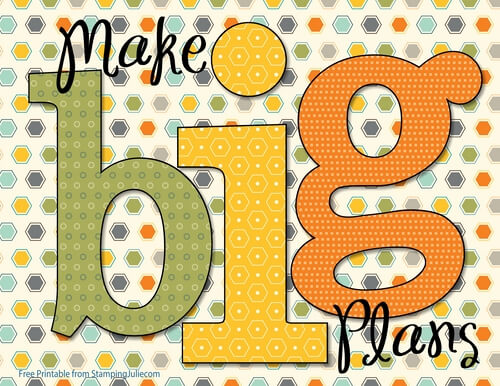 I was at a leadership conference a few years ago and the keynote speaker said, "Don't be afraid to give large assignments.  Large assignments inspire, cause people to reach higher, convey confidence."  So I thought recently, why not me!  I need to Make Big Plans and inspire myself!
Download the FREE printable: Make Big Plans
I have struggled with a weight loss goal for some time.  I've made good changes in the way I exercise and eat in the last year, but I wasn't reaching my ultimate goal.  The rest of my family is doing great, but I'm still stuck.  I have health issues that affect my weight, but that's just an excuse.  It was time to inspire myself!
You know that investment company ad?  "What's your number?"  Well, that's what I needed  – a number.  And it's working.  As soon as I focused on the vision, the ultimate goal instead of what I was doing from one minute to the next, everything changed.
So of course, I needed to make a cute sign in My Digital Studio 2, which I did very quickly.  Now I'm not going to share my number!  Sorry!  But I will share this "Make Big Plans" printable.
Happy Sunday, Julie