New Button Testing Blooper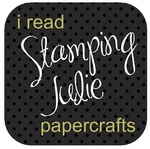 I have a new Stamping Julie button.  And an easy way for you to add it to the sidebar of your blog.  Just copy the html code in the box on the farside bar and paste the link into your sidebar on your dashboard.  I hope you'll enjoy having easy access to this link.
If you read Stamping Julie in a rss feed or email you may have noticed a strange message yesterday called 'testing' that didn't go anywhere.  I was testing the new button on my sidebar and it was inadvertantly sent out to the list, but the link was just a test and so it didn't link to anything.  Sorry!
If you include my button on your blog, Thank You!  <3 <3 <3
Enjoy!  Julie