My Digital Studio – Digital Designing 50% Off
Digital designing with My Digital Studio is now 50% off with Stampin' Up's Online Extravaganza.   The full program with $500 in digital downloads is only $39.98! And the latest digital downloads released today includes a FREE download.    The sale ends tomorrow, so act fast!
 Click here to view the software options.  (The sale price is on the product description page and does not show up on this main page.)  Click here to view MDS samples.
  Click here to view the complete list of Stampin' Up! Sa le Items.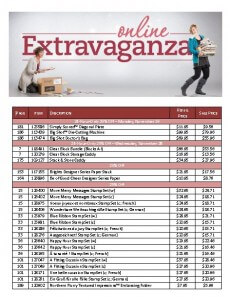 This weeks digital download release:  (Click on the image to view the details.)
FREE For You From Us, #132810
Jingle & Joy Kit #132793
Ornamental Christmas Postcard #132794
Reindeer Games Designer Template #132683
To You From Me Digital Template #132811
Online Extravaganza Sale ends tomorrow!    20%-50% off of Stampin' Up! goodies. Click here now to view everything that's on sale.
Click here to place your order now
Enjoy!  Julie