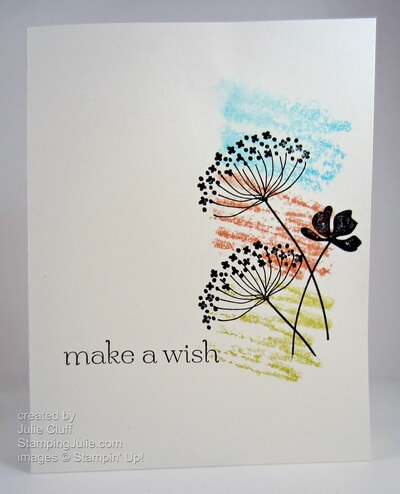 Watercolor Block Stamping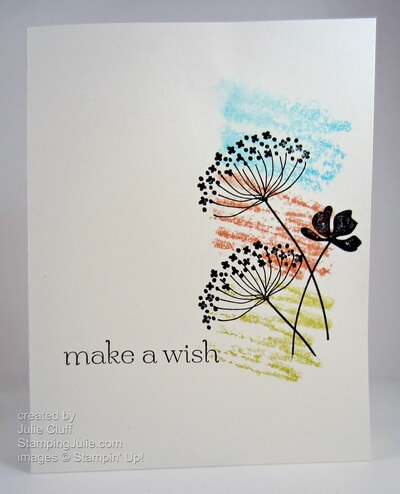 A single layer birthday card with no embellishments, unless you count glitter.  🙂  I've been wanting to try the watercolor block technique.  This entails coloring on an acrylic block and stamping with the block.  It's a little trickier than I originally thought and it took me a few tries to get an effect I liked.
I used the Summer Starfruit, Tangerine Tango and Tempting Turquoise markers to scribble freely on an acrylic block.  Then I lightly spritzed the block with water before stamping on the Whisper White card stock.  It's very important to spritz it lightly.  I sprayed it from about a foot away and only once.  Anymore water than that makes it too wet and the colors run and get messy.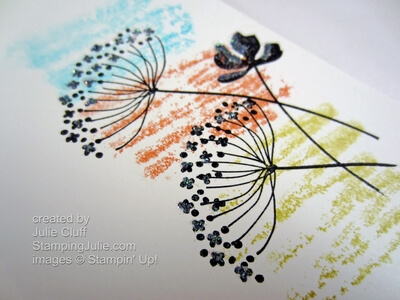 I stamped the Summer Silhouette images over the color blocks with Black StazOn ink.  When I stamped the lower images, I masked the bottom so the stems would not extend below the color blocks.
Using a two-way glue pen I tapped a little glue on the flower blooms to add Dazzling Diamonds Glitter.  Can you see the glitter in the picture below?  Glitter is so hard to photograph.  🙁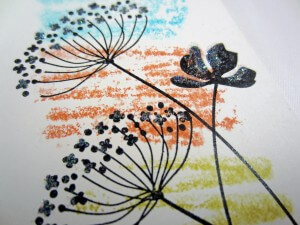 Announcing a Merry Christmas from Stampin' Up!  Recieve FREE product with purchase in time to create your Christmas ornaments and cards!
Here's two Christmas special offers during October!
When you purchase the Ornament Keepsake stamp set & the Candlelight Christmas designer paper, you'll receive the Festive Paper piercing pack for FREE!
Or when you purchase the Ornament Keepsake Bundle with the Candlelight Designer paper you'll receive the Festive Paper piercing pack for FREE
 Click here to order your Christmas special.
Enjoy!  Julie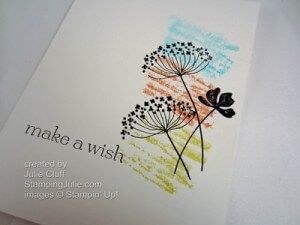 Card recipe:
Stamps:  Sweet Essential w-#126455 c-#126457, Summer Silhouettes w-#126445 c-#126447
Ink: Black StazOn Stamp Pad #101406
Extras: Two-Way Glue Pen #100425, Dazzling Diamonds Glitter #102023, In Color Markers #126856,  Brights Markers #119702