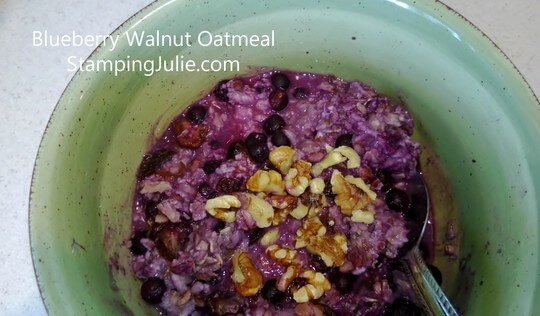 Personally! 2 Plant-based Meals – 'Homemade' Chili and Blueberry Oatmeal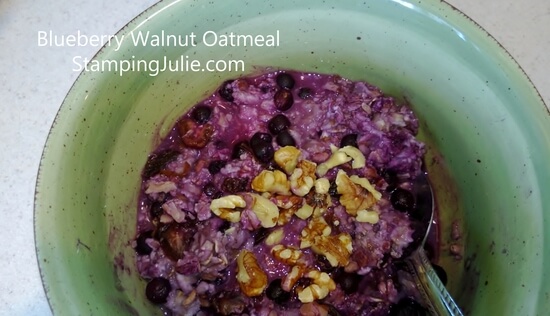 When my friends learn that we eat a plant-based  diet, one of the first questions they ask is, "What do you eat?"  This of course is always accompanied with a shocked look and dismay.  To most of us who have eaten a standard American diet our whole lives, giving up meat, fish and dairy can seem daunting, foreign and just plain strange!   I understand – I was a reluctant enthusiast.  It has taken me 20 years to realize that I – personally – feel better on a plant-based diet.
And most people can only think of the beloved foods they would have to give up.  So after "What do you eat?", the next response is "I could never give up ____."  You can fill in the blank with cheese, milk, hamburgers or pizza, etc.  The fact is I still enjoy most of these things in a plant-based fashion.
My definition of sacrifice is to give up something good for something better.  Think exercise.  When you get up early to exercise you may be giving up a little sleep but you are gaining so much more from your activity.  And really when you are motivated to improve your health and the health of your family it doesn't long before your taste buds change and your healthy food tastes amazing.  Really!
Sometime later I'll tell you about my reluctant conversion so you don't make the same mistake I made of being sick for years when all I needed to do is change my eating habits.  Silly!  In fact, in the past three weeks I've lost 6 pounds while enjoying lasagna, burritos and burgers (all yummy and vegetable based), eating out and entertaining friends at my house.  I've not measured my food, or counted calories.  Yay!  Because, let's face it, I'm not going to!!
So what is in the purple bowl above?  That's my yummy breakfast. I started with the Better Oats RAW Organic Pure & Simple Multi-Grain Hot Cereal.  It comes in this great little pouch that also acts as a measuring cup to add water.  Just reading the ingredients makes me feel healthy – organic oats, barley, wheat, flaxseed, quinoa, and rye and evaporated sea salt.
Here's the complete list from my breakfast bowl:
RAW multigrain hot cereal with flax
about 1 c. blueberries (mine were frozen)
chopped dates
raisins
chopped walnuts
and a drizzle of Agave syrup after heating
The cereal package recommends 2 minutes in the microwave, but because I added frozen berries I needed to cook it longer.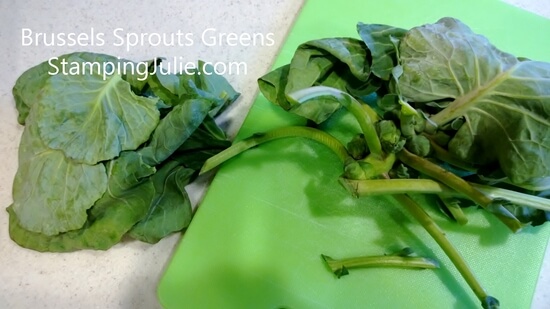 I wish I had taken a picture of this plant before I started cutting it up.  Seriously interesting looking.  These are Brussels sprout greens.  Until I saw this plant I didn't realize how brussel sprouts grow.  Google a picture.  It's quite interesting.  The sprouts grow up the stalk of the plant in rows, like a column.  Apparently you can eat Brussels sprout greens.  I didn't know that until this plant came in my farmers market co-op order this past week.
I was told to cook Brussels sprout greens like you would kale so I added it to my soups and chili this week.  I learned that these leaves don't cook down or wilt the way kale or spinach leaves do, so I chopped it small.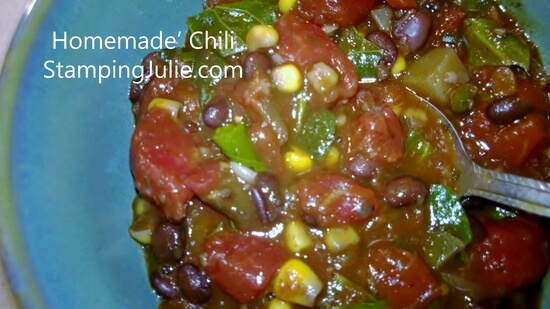 My easy 'homemade' chili started with store-bought vegetarian chili.  (Sorry I can't remember the brand.)  It was not canned but rather in the refrigerator section at Costco.  In addition to lots of beans it had a ton of great veggies in it including mushrooms.  I always read the labels to make sure I know what I'm getting, but I laughed when I read heat and top with cheese, sour cream, etc.  I skipped that step!
This chili was a medium spicy and I knew my husband wouldn't like it quite that spicy so I added a can of diced tomatoes in addition to the added Brussels sprout leaves.  I try to add more greens to everything I do, because you can never get enough.
I have so many stamping projects to share with you this week, it will be hard to decide which to show you first!!  So I hope you will join me this week.
I hope you had a wonderful and healthy weekend.  And thanks for letting me share my plant-based diet and my blueberry oatmeal and 'homemade' chili.
Enjoy!  Julie