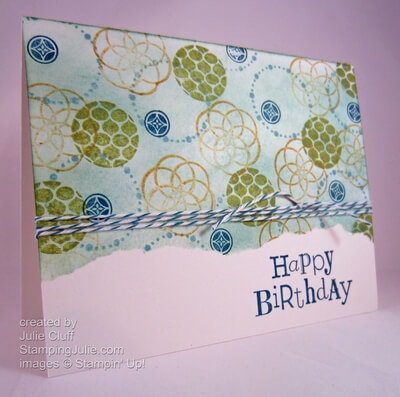 A Wacky Wishes Happy Birthday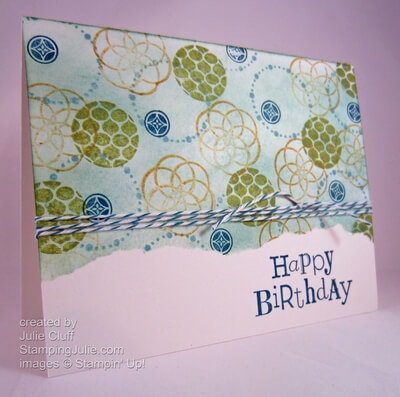 Yesterday we celebrated our son Dallin's birthday.  I created this one-layer, clean & simple collage card with Stampin' Up! stamps from Circle Circus  and Wacky Wishes to wish him a happy, happy birthday!  We celebrated at P F Chang's, his birthday dinner choice.  (Pictures will be added to facebook later today.)
So how did I create this one-layer card?  First I tore a piece of paper to act as a mask.  I placed the torn mask to cover the bottom third of the card and sponged the top third with Baja Breeze ink.  Then, leaving the mask in place, I stamped various circles from in Baja Breeze, Lucky Limeade, More Mustard, and Island Indigo.  The creative color palette came from the Color Coach!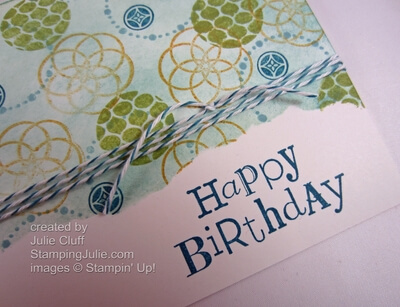 Finally I lifted the mask and stamped 'Happy Birthday' from the Wacky Wishes stamp set in Island Indigo.   Then I wrapped Island Indigo Bakers Twine around the card three times and tied it in a knot.  I really wanted to tie it in a bow but decided the knot would be more masculine.
THE WACKY WISHES STAMP SET IS A STAMPIN' REWARD SET. What does that mean?  When you host a party you can receive hostess benefits including exclusive hostess sets that are specially priced.  BUT you don't have to host a conventional party to receive these rewards.  Any time your order reaches $150 or more in product you can select at least $25 worth of FREE product including exclusive hostess sets.  Click here to view Stampin' Rewards.
I like to make the envelope extra special so the recipient can anticipate what's inside.  By slipping a piece of scrap paper under the flap I was able to stamp this circle in Lucky Limeade to imitate the design on the card.  I find that stamping on the flap is always an easy envelope solution.
Being a 21-year-old young man, he ripped into the envelope like TNT and all the pretty decorating was demolished, but it's the thought that counts, right?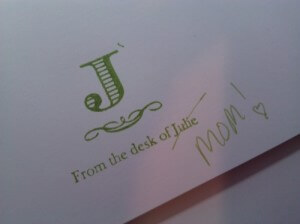 On the back of his card I stamped my personalized stamp with Lucky Limeade and then added some mom personlization with a Lucky Limeade marker.
DIGITAL DOWNLOADS 50% OFF AND FREE DOWNLOADS AVAILABLE NOW UNTIL NOV. 5TH.  Click here to order.
Enjoy,  Julie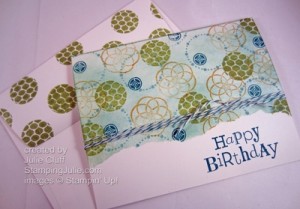 Card Recipe:  Stamps:  Circle Circus w-#
115778
c-#
127784
, Wacky Wishes (stampin' reward) w-#
126410
c-#
126412
Ink:
Baja Breeze
#126960,
Lucky Limeade
#126984,
More Mustard
#126964,
Island Indigo
#126986 Paper:   
Whisper White
#100730 Extras:
Stampin' Sponges
#101610,
Island Indigo Bakers Twine
#125575