Stampin' Up! Summer Smooches with Colorful Birds
I loved these cute little birds and their fun cages the very first time I laid eyes on the Aviary stamp set!  This made it from my wish list  to my home thanks to my sister Kari, who gave it to me for my birthday!  (Yes, I have a wish list too!)  Kari is a Stampin' Up! demonstrator also.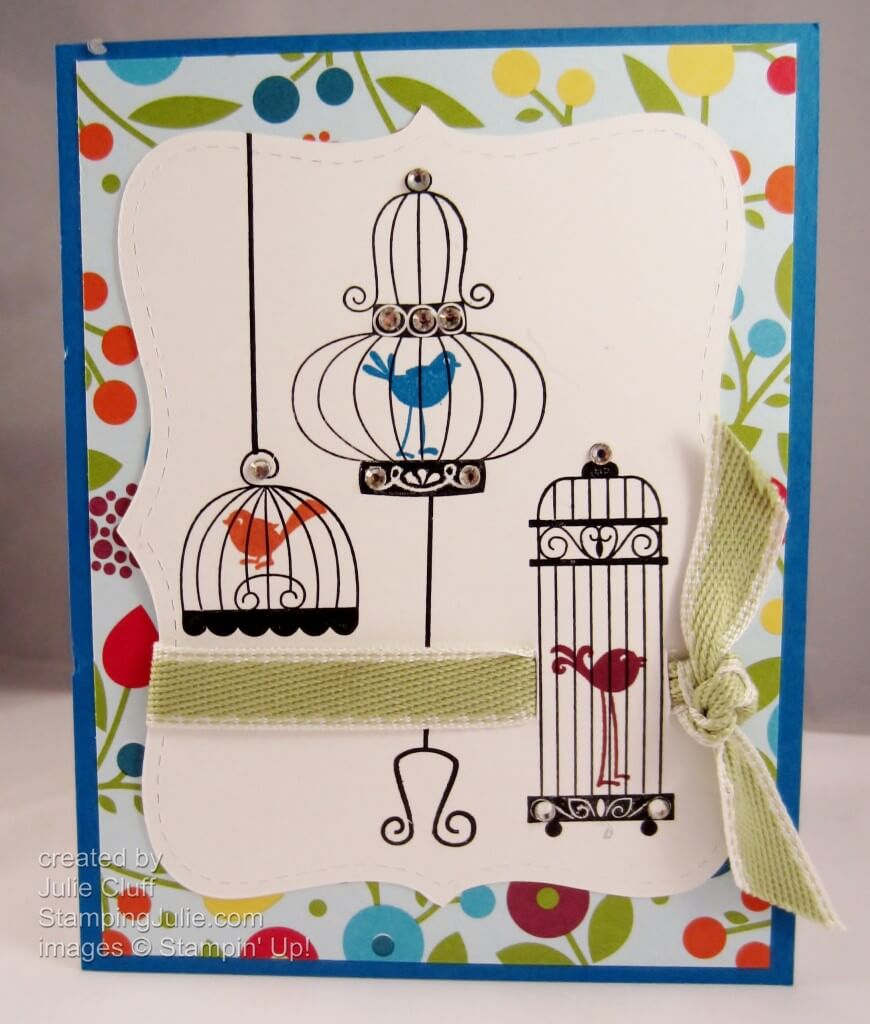 The beautiful Summer Smooches Designer Series Paper inspired this bright, happy card made with the Aviary stamp set.
When using punches, you would stamp first and then punch it out looking through the punch 'window'.  When using the Top Note Bigz Die, I cut my shape and then stamp the images.  It was easy to get good placement with the clear-mount stamps.  I stamped a sample on a scrap paper first to decide on my layout, then cut my shape and added the stamped images.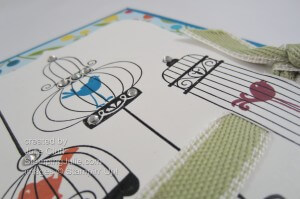 The middle bird cage was stamped first, then I masked the cage with a post-it note and stamped the stand so that it ended at the base of the cage.  (The stand is taller than I needed and would have stamped right through the cage.)
I wanted to add ribbon wrapped around the top note, but I didn't want to cover the cages so I used an x-acto knife to slice a ribbon slot on either side of the image.  (I don't know why the ribbon came out such a funky color in the photo.  It looks MUCH better in real life-I promise.)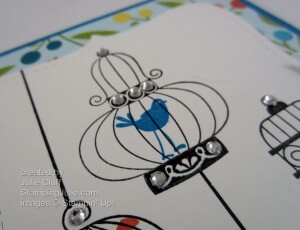 And the final step is adding bling.  I generously added rhinestones to the cages.  Love it!!
Card Recipe:
Stamps:  Aviary clear-mount, wood-mount
Paper: Whisper White cs, Pacific Point cs, Summer Smooches designer series paper
Ink: Black StazOn, Pacific Point, Tangerine Tango, Rich Razzleberry
Extras: Top Note Bigz Die, Rhinestones, Ribbon
Enjoy!
Julie