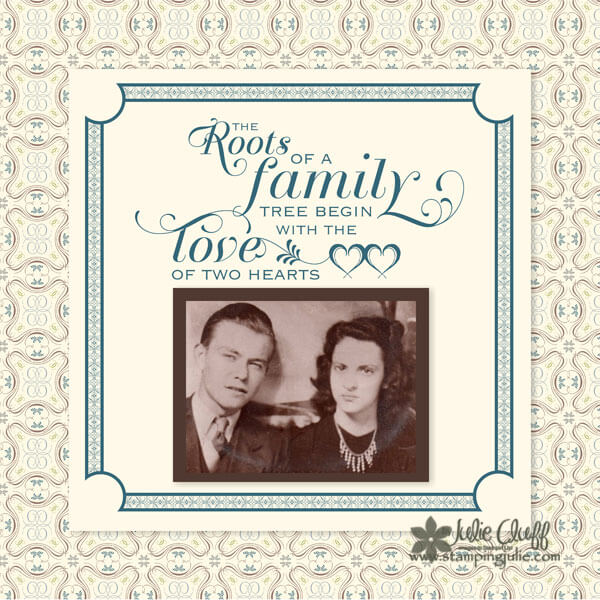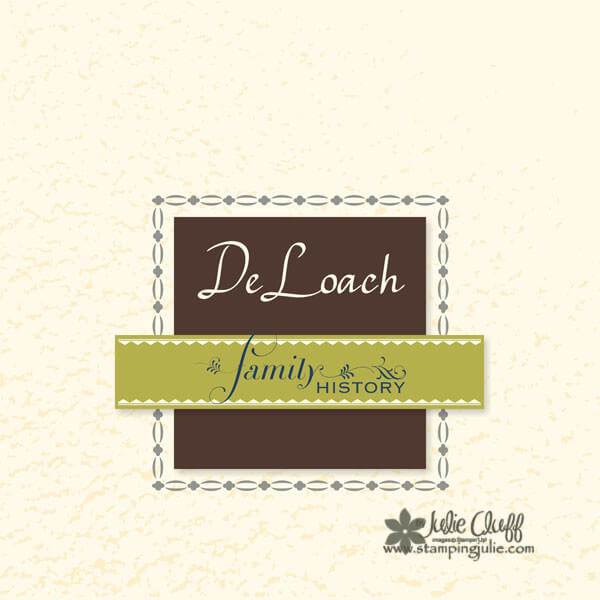 I'm a big family history buff! I love it and have been researching my family for more than 15 years now and teaching and lecturing on family history for more than a dozen years. So I was super excited when Stampin' Up! introduced the 12×12 family history digital photobook template for MDS in January.
The template for this photo book has a picture square behind the 'family history' banner.  I changed it to a block and added the family name.  I really enjoy being able to start with a template and adjust it to my needs.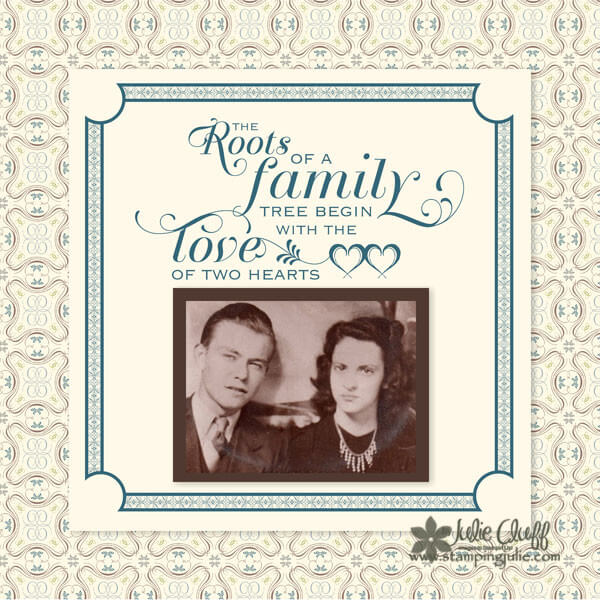 The picture of the couple above is of my grandparents, HD and Josie DeLoach. The best I can tell this picture was taken around the time they got married which was 1941.  This is just the beginnings of my album and as you can tell I haven't filled in all the data yet on the page below, but it gives you an idea of how easy it is to do.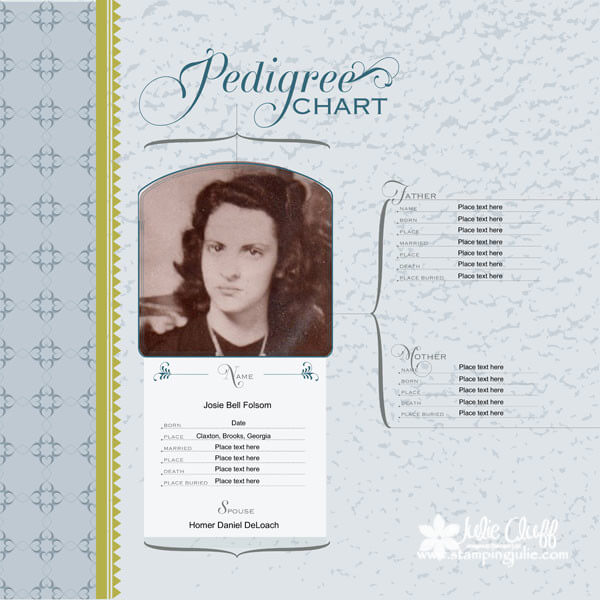 For the other history buffs out there, I have to tell you of my latest discovery!  (For the rest of you, skip down below for the latest digital downloads!)
Last month the Louisville Genealogical Society meeting included a presentation from a couple who had a journal of an ancestor's civil war experience.  It was a very small, fragile book with some wonderful excerpts about the history of the time.
Years ago I learned that the Brooks County Genealogical Society in Quitman, Georgia, had published "The Civil War Letters of Bryant Folsom." Bryant Folsom was my 3rd great grandfather, an ancestor of my grandmother above, who died in the war.  I was anxious to get a copy of the publication.  Unfortunately, it was printed in 1997 and by the time I found out about it there were no copies available.
Occasionally I would search the web for a copy, but I never had any luck.  After going to the civil war lecture last month, I decided to try my search again and I found one for sale on Amazon!  I immediately purchased it and it was delivered just days later in perfect condition!  Success!  I am so happy to have this book for my family.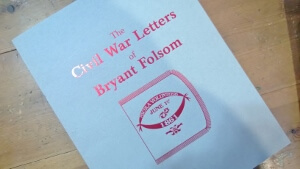 It's Tuesday, so that means new digital downloads!  The new digital downloads this week include some extra special projects for mom in preparation for Mother's Day and a graduation digital stamp brush set.
This funky mother's day gift coupon book includes fun coupons like "we'll listen to music of your choice", which is among my favorites!  Also, I think mom will really love this if you exchange some of the coupons for pictures making it a brag book for her purse too.
CLICK HERE TO VIEW ALL THE LATEST DOWNLOADS AND ORDER YOUR FAVORITES TODAY!
STILL NEED THE MY DIGITAL STUDIO SOFTWARE?  CLICK HERE.  It's only $19.95 and includes $500 in digital content too!  This is a tremendous value.  Also, I highly recommend ordering the disc version.  You'll have the added cost of shipping but this is a large file and you'll be happier having the disc.  You can try the software (without the digital content) for 30 days FREE, but at just $19.95, go for it and get started on your digital albums today!
Order your family history digital photobook template today and create your own family heirloom.
Enjoy! Julie