50% off Stampin' Up! Sale
Big Stampin' Up! Sale – November 19-28!  Don't miss it!
Do the happy dance!!!!  And as a special bonus when you order your sale items from StampingJulie online store, you'll receive the November Virtual Stamp Camp.
MONDAY ONLY SALE: 20% OFF THE BIG SHOT DIE-CUTTING MACHINE, BIG SHOT DOCTOR'S BAG AND SIMPLY SCORED DIAGONAL PLATE!
Details:
The Online Extravaganza promotion is our biggest online sale of the year!  During these 10 days only, you can get incredible discounts-up to 50 percent-on some of your favorite products!  In addition, there will be three products 20 percent off for 24-hours only on both the first and last days of Online Extravaganza-our very own doorbusters!
Monday, November 19, midnight – 11:50 PM (MT)
Wednesday, November 28, midnight – 11:50 PM (MT)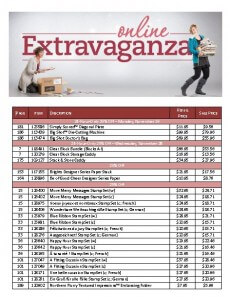 Click here to view the complete list of Stampin' Up! Sa le Items.  Be ready Monday!  Print a copy and start making your list.
The Fine Print
Discounts range between 20 and 50 percent–awesome!
Discounted products are available on all order types (customer, workshop, and online).
There's no minimum purchase required to participate in this promotion. Sale on!
For product bundles, you need to use the bundle item numbers provided. If you use individual item numbers, you won't get the discount–bummer.
You can buy additional products from any of our current catalogs on the same order.
Exciting!  See you Monday.  Julie