Meet StampingJulie follower, Gail.  Gail is in her 70's, loves stamping and loves her family!  And she inspires me!
Gail writes:
"I have a 98-year-old aunt in an assisted living residence. Too far away for me to travel to see her, but I keep in touch by sending her a card or two every week. She loves them, and I try to never duplicate them. I'm always on the look out for interesting sketches, color combos to spark her attention and comments so that she interacts more with the other residents and her residence attendants—yet not so involved that I get bogged down trying to make them. That's one reason why I love my SU supplies—they all work together.

"I'm in my 70s and not too technology inclined, though I do try. I still have a regular phone–though I have gone cordless–but I don't have texting, etc. Snail mail is still how my relatives my age and older communicate and they do so enjoy my cards. I love making themand my aunt is the last of my mother's and father's families still living. When she sees my folks again, I will be the oldest of those remaining.
" I have spent all this time and going through your blog from one end to the other! What a gift you have given me—so many ideas and I love that they are not terribly involved.

"The newest generation–my  great-nephews and great-nieces love my cards, too—so on any given holiday during the year my mailing minimum is nearly 30 cards!  The littlest ones  (2 to 6 yo) make up stories about what's on my cards and tell me them when they  see me or when they talk to me on the phone—so I have to keep them interesting  for them, too. Fishy Friends, Fox & Friends, Dig it and Dinoroar are  invaluable for conversation starting cards with them!

"You've done a great job on the blog and I'm sure you  have aided many other stampers with your detailed instructions. Your stamping  class/customers are very fortunate to have you!
"I've spent a couple hours on your blog  and know I'm going to be spending many more—Thanks again, so very, very  much!"     =) Gail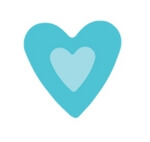 Gail, you inspire me with your love and devotion to your family!  They are lucky to have you!!