Clean & Simple Trendy Trees
I love clean and simple, and here's a clean and simple Trendy Trees thank you.  I love clean lines and lots of white space in clean and simple designs.  The extras in this simple card come from the funky design of the trees, the bold chevron design in the paper and the scored lines in the background.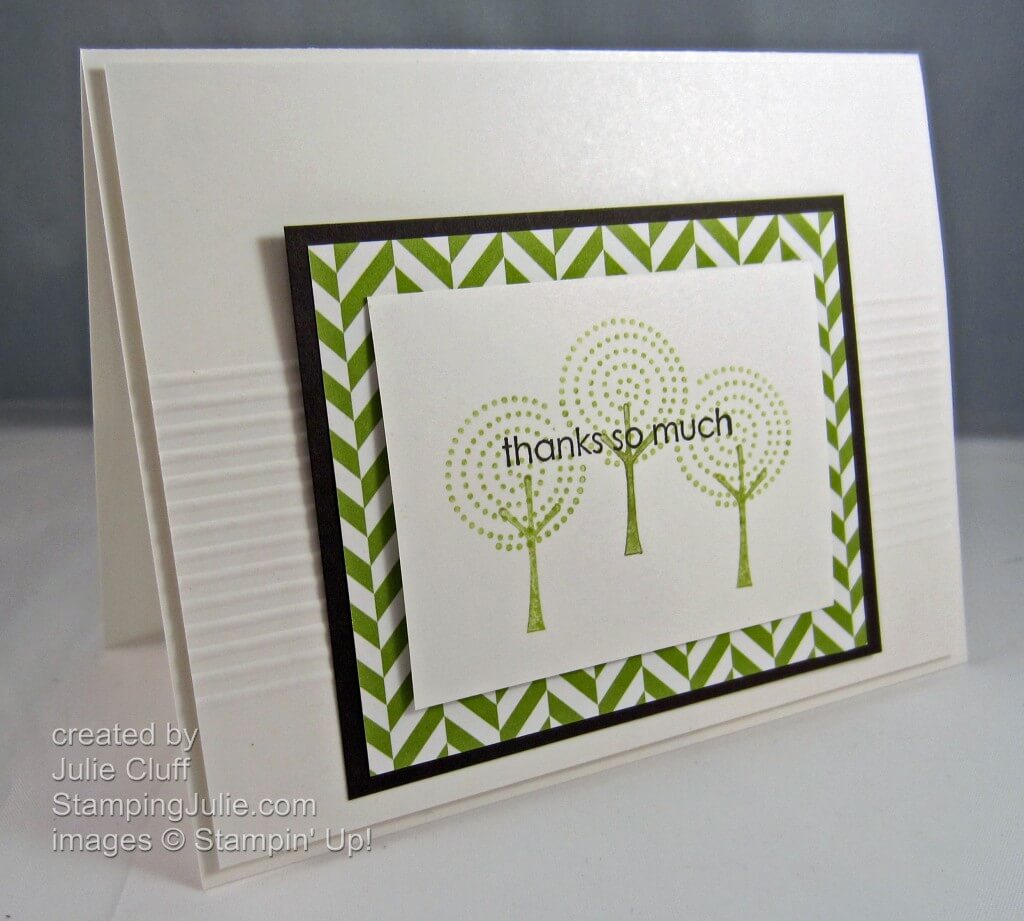 Technique:  Punch Masking – I stamped the middle tree top first.  Tip: Always stamp your foreground image first. The tree top was stamped on a post-it note and punched out with a 1″ circle punch creating a mask.  I covered the middle tree with the post-it-note mask and stamped the tree tops beside it.
The Trendy Trees stamp set will retire at the end of the month and the Summer Smooches paper will be available again June 1st when the new catalog comes out.
Want a new 2012-13 catalog?  Place any order between now and May 15th and I'll send you a new catalog for FREE when it's released.  The Stampin' Up! catalogs are great for inspiration.  It's always exciting to get a new catalog with new ideas!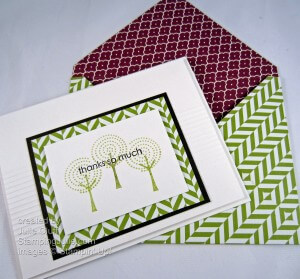 The embossed lines across the card and the envelope were made with the great scoring tools now available.  LOVE IT!  These envelopes are super fast and easy to make.  Click here for the envelope video tutorial.
Card Recipe:
Stamps:  Trendy Trees #113258 (retiring May 31st)
Paper: Whisper White #100730, Early Espresso #119686, Summer Smooches (available on June 1st)
Ink: Lucky Limeade #122935, Early Espresso #119670
Extras: Simply Scored #122334, Dimensionals #104430, 1″ Circle Punch #119868
Try masking today.  And I would love to see your work.  Feel free to share with me at the email address above.
Enjoy! Julie