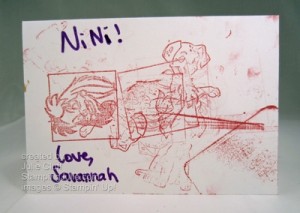 Introducing a new generation of stampers!  Here's the card my 3 year old granddaughter sent to me a couple of weeks ago.  And I received the sweetest call yesterday from Savannah thanking me for the little stamped card I sent back to her.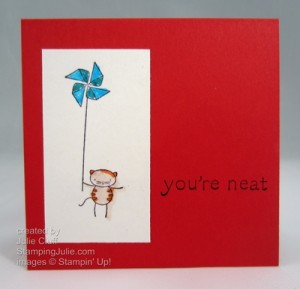 She was so excited to get this card that I stamped about five years ago and that was still lying around in my stash.  Isn't it great to be able to make hand made creations for the special people in your life?  Savannah is already learning that at just 3 years old!
Here's a couple of new stamp sets I'm looking forward to receiving to use to make cards and projects for the grandkids.
Bug me Stamp Set clear-#126577, wood-#126575
Moving Forward Stamp Set clear-#126322, wood-#126320
Every year Stampin' Up! creates a set to support the Ronald McDonald House Charities®.  When you purchase the Moving Forward Stamp Set, Stampin' Up! donates $3 to the charity.  Purchase yours today and make a difference!
Enjoy!  Julie